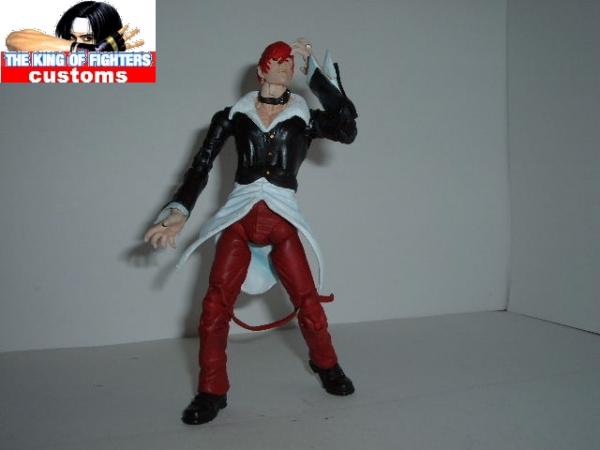 Here comes the next challenger: iori yagami.
iori is a playable character from snk's fighting video game series, the king of fighters, card fighters, snk vs capcom, and neo geo coliseum.

iori yagami is the eternal enemy of kyo kusanagi, this hatred was formed over 1,800 years ago before iori or kyo were even born. As three clans, the kusanagi, the yata, and the yasakani (later yagami) were responsible for holding together a seal that kept a powerful entity called the orochi from entering their world using three ancient artifacts. Eventually the yasakani wanting more power sought to destroy the two other clans for their artifacts and control the power of the orochi. Making a pact with the orochi to make them more powerful, a pact that in return allowed the seed of the orochi to lay dormant in the blood of the yasakani and so for the power they wanted little by little the very life was drained from the clan and their descendants to feed that power. Over centuries all three clan dwindled down to a few straight bloodline descendants that have all in some way had something to do with the king of fighters tournaments. Practically brainwashed by his clan, iori has always believed that the downfall, curse and betrayal of his clan came because of the kusanagis. Iori had joined the king of fighters in 1995 to have a chance to kill the last true bloodline kusanagi, kyo. Iori hoping for his chance has been in every tournament from 1995 to present and has enjoyed maiming and hurting every competitor that was foolish enough to come his way. Iori is feared in every kof competition, so much so that he was the first person allowed to enter as a single fighter due to the fact he kept practically killing all his teammates and everyone refused to be a part of his team. Over time, iori realized that the kusanagis had nothing to do with his curse and that made iori want to kill kyo just a little bit less.
iori is an insane tortured soul. His outward hatred for the world is a mask that hides his confusion from being born into a bloodline whose males die young and females die in child birth. Having no other outlet for this confusion, iori became strong and takes it out in rage and destruction.
iori's fighting style is ancient yasakani martial arts.

iori was customized from a ml iron fist chest, a sota street fighter remy legs, head, top portion of the arms, high dream capcom/ snk iori lower hands, shirt tail, other figure odds and ends, and sculpting.

customizer side note: here is my new king of fighters team for the month of may, the iori yagami team featuring vice, mature, and my personal favorite, mister iori yagami. Not to toot my own horn, but in scale and character likeness i think this team came out really good and i am so happy with the way all three came out, especially iori who for the most part has a hard character design is now inscale far better than his 7' high dream counterpart. Well that's it for the month of may, so i'm off to work on the june team that's due in a couple of weeks.