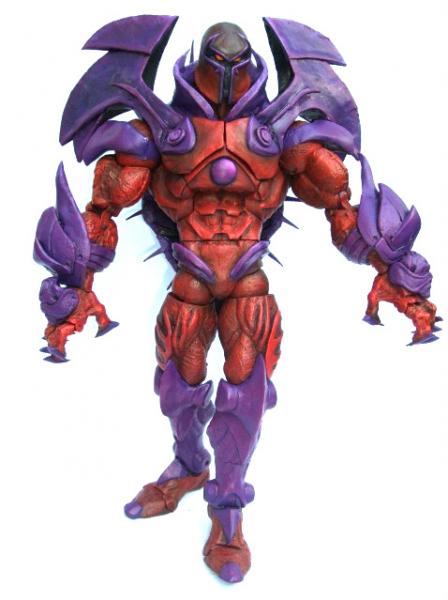 | | |
| --- | --- |
| Custom #: | 15519 |
| Name: | Onslaught |
| Custom Type: | Action Figure |
| Toy Series: | Marvel Legends |
| Creator: | warrack |
| Date Added: | June 16, 2009 |
| Base Figure: | Marvel Legends Icons Venom |
| Height: | 13.50 inches |
Know his name, and fear it!

Another commission for me, Onslaught is a much maligned character that is actually one of my favourite villains. Born out of a necessity to clear away the 90's angst that Marvel's heroes had found themselves in, he actually managed to be a credible threat to the heroes and make sense within continuity.

Anyway, to the custom; Onslaught was a Marvel Legends Icons Venom that I had to spend weeks and weeks building up to get the armoured look. Most of the armour on his body is fully sculpted, but you can see areas, like parts of his gauntlets, or the shell on his back (which you can't really see here) that were cobbled together from the ML BAF Onslaught.

His shoulder armour is made from a cardboard Easter Egg box covered with my usual super hardened papier mache. His armour isn't totally accurate to the comics as I had to retain the articulation. Although, it was actually very difficult to find two images of Onslaught that were similar, with each artist seeming to take his own approach to the character's look. It was frustrating at first, but I could feel a bit more comfortable about filling in the blanks myself.

I wanted to recreate the moment in the comics where Onslaught taunts the heroes by opening his chest and revealing Charles Xavier trapped within him (right before Thor tears him out). This was also a feature in the old 1997 Toybiz toy but Xavier appeared in a bubble on Onslaught's back, which was a bit weird.

Anyway, I carved out Venom's chest and added 2 double pin joints at the top of his pecs, and another at the top of his abdomen. I then slowly sculpted up the flaps so that they fit together and created a nice little secret compartment. I used some fodder I had lying around: ML Movie Punisher's upper body, ML Xavier's head and a Spider-Man Movie Green Goblin hand to create Xavier inside the body. I resculpted Xavier's serene look to make him look anguished and reaching to get free of Onslaught. As in the comic, I surrounded Xavier with black goo (hot glue with Tamiya Smoke paint) and gave it all a lot of gloss finish.

Other items used were flossers for the spikes and a wooden ball for the orb in his stomach.

His paint job was a little more difficult than I first thought. Red and purple, not the most difficult thing in the world, but it was a hellishly hard to make him look evil. I ended up using a lot of dark red and almost black, especially on the head so that his eyes would burn out of the darkness.

I hope you all like him.