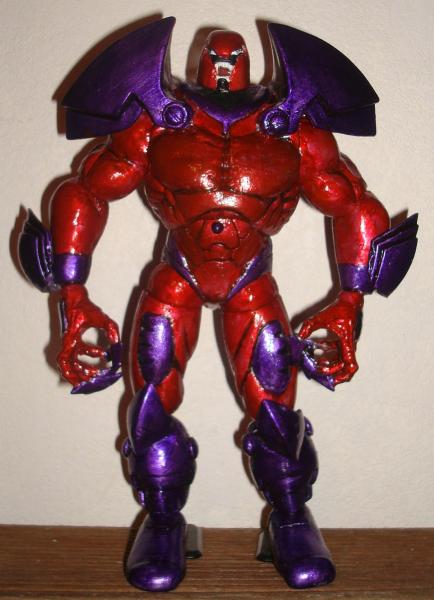 | | |
| --- | --- |
| Custom #: | 15859 |
| Name: | Onslaught 2.0 |
| Custom Type: | Action Figure |
| Toy Series: | X-Men |
| Creator: | Delta T |
| Date Added: | July 1, 2009 |
| Base Figure: | HML Wendigo, Parts From The 90's Onslaught. |
| Height: | 8.00 inches |
I've been working on this custom since November, mostly because I'd get frustrated and throw him back on the backburner, lol. Anywhoozle, long story short he's a lot of sanding and sculpting, so if your gonna leave any critisizms, please be gentle. This is hands down the most work I've ever put into a custom.
I've seen a lot of the SMC Veonm Onslaughts which are awesome, but I wanted him bigger! I also toyed with the possability of making a combination of the "Spartan" and the "Crab" incarnations, but I liked his spartan visage better.
He started out as an HML Wendigo. I sanded off all of the fur, pulled out his tail, filled it in, and rebuilt the neck so it wasn't too far forward.
The head is from an ML Onslaught BAF with the helmet entirely sculpted and his hands are from an SMC Scorpion Venom. I sculpted the collar, all the detail below the pects, on the lower torso, wrists, hips, thighs, shins and feet. The shoulders, wrist guards, knee guards, calf guards and fingertips are from the 90's Onslaught. The paintjob was an an experimental varation on the metallic paintjob tut that KR posted. All of the purple has an underlay of the Vallejo "Game Color" silver with an overlay of transparent purple. The pects and midsection have an underlay of Citidel "Boltgun Metal" and everything else thats red had an underlay of Citidel "Mithril Silver" all with an overlay of transparent red.
He also has a alternate Prof. Chuck head.
Thanks for looking, I hope you enjoy and please feel free to comment. My technological ineptitude prohibits me from being able to comment back however please feel free to IM me at DeltaIndiaTango with any questions.