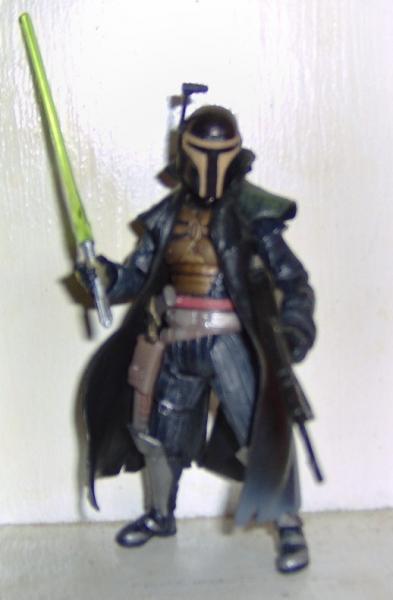 | | |
| --- | --- |
| Custom #: | 15888 |
| Name: | Bardan Jusik & Ordo Skirata |
| Custom Type: | Action Figure |
| Toy Series: | Star Wars |
| Creator: | HisDivineShadow |
| Date Added: | July 3, 2009 |
| Base Figure: | Cade Skywalker & Arc Trooper Commander |
| Height: | 3.75 inches |
Bardan Jusik was a jedi serving in the clone wars, who grew attached to the crew he worked with, including Kal Skirata and his sons, the Null Arc trooper clones. He gave up being a Jedi and became a full Mando'ad. I know in the books he has green mando armor, but so does a million other mandos in Star Wars history, and I really like Cade's outfit just as it was, I was gonna paint it a different color, but I really like the copper color. Plus the coat rocks, and Cade's head looked weird. When I get my better paint, I'll probably come back to him and paint his shin/boot armor the same copper as the rest, and redo the gold/mustard part of his helmet the same copper as well, untill then, here is my version of Jusik with his own armor, when not wearing Kal's dad's beskar'gam =) I just popped off the head and put on a clone head to fit the helmet, then took the old escape from kamino jango's helemt and painted it black and mustard yellow/goldish. Simple easy custom.

Ordo Skirata, aka Null 11, was Kal's favorite son (though he said he couldn't have favorites he admitted that"yeah, he's probably the one I over-protect the most") and a main character, along with Bard'ika(Jusik) in Karen Traviss' Republic Commando novels, which are awesome, my favorite Star Wars books ever! He was one of the first 12 clones ever created from Jango, and the Kaminoans enhanced the Fett genome to make them smarter, faster and strong than Fett or any other clone, but it also made them unpredictable and unwilling to obey orders. The Kaminoans were going to kill them as failed experiments (at 2 years old, sick bastards! Aiwa bait!!) until Kal saved them and basically adopted them, training them to be the best. Ordo has a photographic memory and genius level intellect as well has superior reflexes and skill in everything from slicing computers to killing unheard or seen.

I made Ordo from a regular Arc Commander, and to separate him and make him unique I painted his shins and boot spats red (I mixed the red myself, I think I did a good job of matching it to his pauldron, let me know what you guys think) and I also made a neck for him, as all these arc's are made with regular clone bodies, with no worries about how the helmets will look with the pauldrens since the necks are too short, they look ridiculous, I think, so I wraaped some tape around the bottom of their faces and painted it black, then sat the helmets higher on their heads (I say "their" cuz I did it for all my arcs).

These are both the simplest custom imaginable, so I posted them together. Also, even though they aren't major changes to the originals, they are still a part of my ongoing republic commando novel characters customs =) I can't WAIT till I can afford the Elite Republic Forces box sets off a website, so I can get omega squad and mij gilamar to make Kal Skirata out of! I've given up on getting delta, they are ridiculously expensive anywhere I can find them =(

Well, thanks for looking and I hope you like my modest little customs, in between my more major jobs. I'm not going to post the other nulls, since they look similar to Ordo, but in different colors. Eventually (in a long time) I'll do them in Beskar'gam (mando armor) and ill post all of them then! Thanks and enjoy!