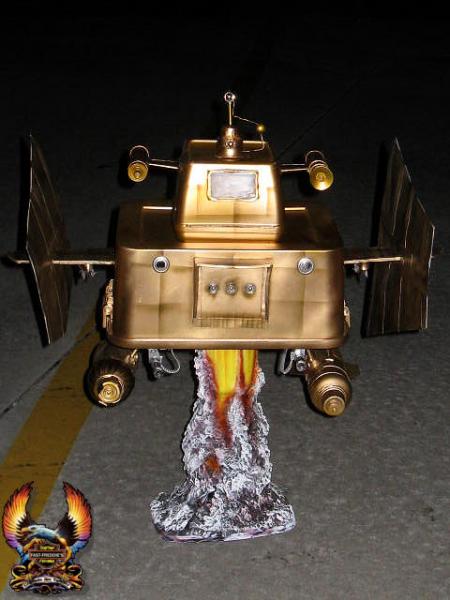 Ok friends... I want everyone to know I am about to post the biggest beast I've ever made, for now. Anyways, I would like to post this before the identity of the red hulk is revealed. I thought it may be the abomination dressed up in a red hulk costume and faked his death at first. But that didn't make any sense. Then, tmb (toymaker b) told me who he thought it might be and it all made perfect sense. I elaborated and ran with what he said. In june of 1981 a man who hated the hulk and bruce banner more than anyone on the earth, met his demise at the hands of the jade giant. Banner had cause him heartache by causing his divorce from betty ross. This, in turn, broke his heart and fueled his desire to destroy the hulk at all costs. Who is this jabroni I speak of? None other than colonel glenn talbot. Talbot died in a machine known as the war wagon. Talbot had put on a cybernetic helmet linking him to the ships commands and he could feel everything the war wagon felt. He died when the hulk struck the side of a volcanoe and molten lava spewed from the side of the mountain and covered the ship, frying his brain and destroying the ship... Or did it?? Nothing was ever mentioned of talbot again, no funeral, no memorial service, no nothing. Wtf?? Enter the red hulk some 27 years later who is red like the lava that covered the ship, and bleeds golden blood(samhain thought of this) just like the color of the war wagon. Not to mention the red hulk hates banner and the hulk more than anyone. The other clues tie in nicely too. He killed abomination for what he did to betty. The retina scan at the military checkpoint. The relationship with general ross. If it's not talbot, I will be disappointed. I have always said I hated the red hulk, and this would be perfect, because I always hated glenn talbot too! He was a major butthole! Now former colonel... Lol!! With that being said... Guess what I proudly present on my 40th birthday?? Yes, you guessed it.... The real reason gamma base couldn't account for it's spending to congress I almost built this beast in the utmost secresy... A few of my closest nephews knew about it. Ingredients:
1. It was made using 2 sterilite containers. 2. Two large plastic cups(like the one I used to make modok, attached together at the bottoms
end to end with duck tape and covered with newspaper and then paper maiche to make the exhaus plume base. A $1 bowl was used to sit the ship onto the exhaust stand. 3. For the large wings, wooden hobby slats. 4. Solar panels were 3 layers of plastic table mats and thick bristol board, glued and taped together
5. Bottom missles were a dr. Pepper bottle(right missle) and a water bottle(left missle)
the wings were from a model airplane supplied by my stepdad
6. The top wings were from the same airplane with tubes from mighty putty. 7. The left tube has a suction cup from a spider-man webbing. It was supposed to be sonic ray
8. In the end of each of those 2 tubes, are turbines from a model f-14 tomcat
9. Underneath the main body is 4 phoenix missles from the f-14 and 2 30mm chain guns from a t-1(terminator)
10. Top wings have 2 missles on each wing. Sidewinders and hulk buster specials
11. For the front of the main body, 5 buttons were used. The 3 center ones representing a different
weapons system. I only know that one of the weapons were a napalm flame thrower. I guess the other 2 were
probably a freeze ray and water cannon or some crazy thing that would just piss the hulk off. 12. The antenna was a ketchup cup over a sucker stick with twisty wires and buttons and a rubber band. 13. On the four corners are led marker lights. 2 red in the back and 2 amber in front. 14. Inside the cockpit is a control panel with 5 led lights and on the ceiling is some red led lights. Thanks to my stepdad who supplied these lights. 15. Also on the inside is a captain's chair from a star trek next generation. Paid $5 for that at suncoast. Metal fire extinguisher and various stickers.