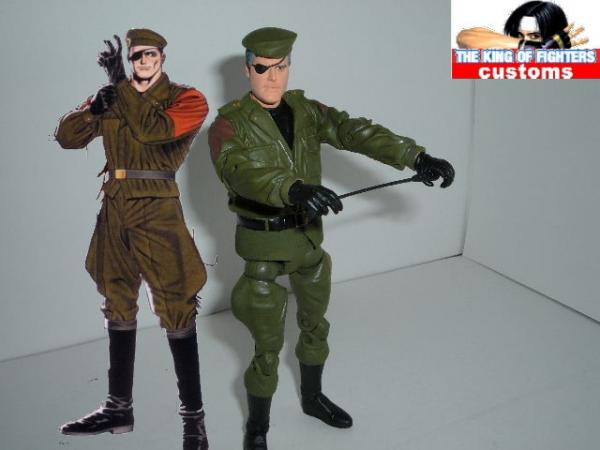 | | |
| --- | --- |
| Custom #: | 16485 |
| Name: | Heidren (King of Fighters) |
| Custom Type: | Action Figure |
| Toy Series: | King of Fighters |
| Creator: | chaosemperor |
| Date Added: | July 30, 2009 |
| Base Figure: | Diamond Select Star Gate Figure ??? |
| Height: | 7.00 inches |
Here comes the next challenger....Heidern.
Heidern is a playable character from snk's fighting video game series king of fighters.

The ikari leader heidren, started the ikari team to get revenge on rugal, who during a promotion ceremony took heidren's right eye and killed heidren's wife and daughter. Developing his own deadly style of martial arts and teaching it to a small group of mercenaries, they became the ikari warriors team. Somewhere in his merc travels, heidren picked up a little girl he named leona from a dead village, he became her foster father and taught her the mercenary ways. Heidren's chance for revenge came in 1994 as rugal announced the 1st king of fighters tournament. He and his two best fighters ralf jones and clark still joined their mentor on his quest for vengence. That tournament ended with no clear cut winner, but with rugal apparently dead. Heidren joined again in the 95 tournament before giving his place to leona in 1996. Heidren in 1998 with two other concerned individuals named takuma and seisyu made the fathers team to protect their kids from the bosses team. After that tournament the fathers team never joined together again, but heidren did return to the king of fighters in 2001 and 2002.
Heidren's fighting style is martial arts with self taught assassination techiques, his fighting style emphasizes on cutting hand strikes that involves cutting with the use of bladed gloves, which also conceal explosives and a form of energy generator.

Heidren was customized from a stargate figure ??? Upper body and arms, ml loki legs, tna wrestler jesse storm head, lotr bormir boots, other figure odds & ends, and sculpting.

Customizer side note: here is my new king of fighters team for the month of june (yes, june I know it's a month late, I blame seisyu and the person who was his character designer ), the fathers team for father's day featuring heidren, takuma sakazaki, and seisyu kusanagi. All in all I don't have much to say about this team as everything came together perfectly with the look and scale. The main reason for the lateness was seisyu kusanagi, this custom took me two weeks just in the planing stage with the odd pieces needed to put his look together and three weeks in executing them into the custom you see in the pictures. July's team is really coming; I'm working on it as I write this, see you soon.