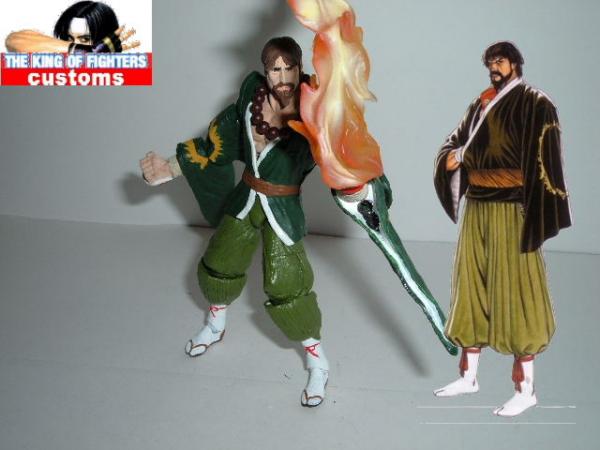 Here comes the next challenger....Seisyu kusanagi.
Seisyu is a playable character from snk's fighting video game series king of fighters.

Master of the red flame, seisyu kusanagi is the father of kyo kusanagi. As the head of his clan, seisyu's responsiblities is to keep the power of the orochi under control and defeat anyone who would use its power for evil. This put him in contact with a powerful martial artist named rugal, who wanted the power of the orochi for himself. Defeated by rugal, seisyu was brainwashed into becoming a sub-boss in the king of fighters 1995 tournament. Until his son, kyo freed him from the brainwashing. That tournament seemingly ended with rugal's death, so seisyu was robbed of a rematch. After his defeat, seisyu wanted to step down as head of the clan and give the title to his son, but at every turn kyo runs away from that responsibility and the training that went along with it wishing to enjoy his youth a little longer. Seisyu in 1998 with two other concerned individuals named heidren and takuma made the fathers team to protect their kids from the bosses team. After that tournament the fathers team never joined together again.
Seisyu's fighting style is kusanagi style of ancient martial arts and japanese style empty handed combat taught only to the kusanagi.

Seisyu kusanagi was customized from a ml iron fist torso and hands, lotr ringwraith arms, onimusha ??? Figure legs, hml ronin/ clint head, other figure odds & ends, and sculpting

Customizer side note: here is my new king of fighters team for the month of june (yes, june I know it's a month late, I blame seisyu and the person who was his character designer), the fathers team for father's day featuring heidren, takuma sakazaki, and seisyu kusanagi. All in all I don't have much to say about this team as everything came together perfectly with the look and scale. The main reason for the lateness was seisyu kusanagi, this custom took me two weeks just in the planing stage with the odd pieces needed to put his look together and three weeks in executing them into the custom you see in the pictures. July's team is really coming; I'm working on it as I write this, see you soon.