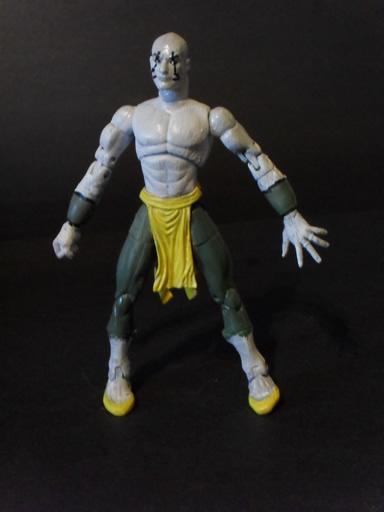 | | |
| --- | --- |
| Custom #: | 16688 |
| Name: | Hiro Kala (Second Son of Green Scar) |
| Custom Type: | Action Figure |
| Toy Series: | Marvel Legends |
| Creator: | finalvinyl |
| Date Added: | August 8, 2009 |
| Base Figure: | Ml Figure |
| Height: | 6.50 inches |
Just a cool character that needs to by made..

Enjoy>>>>


Hiro Kala was just an ordinary slave like any other, but his courage and strength was the key to his freedom. Now Hiro Kala wields the Old Power, as a son of Hulk, the Green Scar and Caiera the Shadow Queen.
Origins

Shadow Tales

He was enslaved even at a young age, he was pushed, mocked even laughed at until a old man tells him about the story of hulk, and dicovers his goal, to get the Old Power. he sneaked out of the Fillian borders, and was stranded on a desert, where two men were pushing on him, he remained silent until a monster helps him and kills the men. He was calmed by a woman who was kind enough to give Hiro an apple, but Hiro refuses and continues his journey. He saw Hiro-Amin chained and hopeless across an arc, Hiro Kala used a rock to break the chain, Hiro Amin knew what the boy was looking for, and asked him to reach in his pocket. Hiro Kala thought it was a rock, but it was just an eye of a man who sought the Old Power, and went crazy. Hiro Amin said that to get the Old Power, he or she must kill someone with the Old Power, Axeman from behind grabs Hiro Kala and gives him his axe. As Hiro Kala raises the axe and finishes Hiro Amin, a blue beam circled over the sky. He knew it was the Old Power but it never came to him, it just flew away. Axeman grabs Hiro by the neck and breaks his slave collar, Axeman granted Hiro Kala freedom and became his honor guard. A few days later, Hiro Kala and the Axeman's army went to Okini to hunt Skaar.

Free at Last

After some time, the Silver Surfer shows up to warn the people of Galactus's coming. Yenrag and Old Sam joined forces to free the slaves. Hiro Kala lead Old Sam and Yenrag and the rest of the slaves to the battle grounds of Fillian borders. Hiro Kala helped Surfer rescue the shadow slaves, while Yenrag was fighting guards of Axeman. After the fight, Hiro Kala takes notice of Caiera's return. Hiro Kala and the rest were watching Surfer and Skaar fight until they saw nothing. The surfer had sent Skaar to see the might of Galactus up close. Skaar's pride caused him to waste time and ignore the urging of his mother to evacuate the people of Sakaar. He chose instead to face Galactus, thinking he could fend him off - against the better judgment of both Caiera and the Silver Surfer. Galactus destroyed Sakaar, absorbing its Old Power, and sating his hunger for an estimated 10,000 years. Seeing the futility of reasoning with her son, Caiera cast her son through the wormhole and toward Earth. In a final spiteful attack, Skaar blasted Galactus with a surge of Old Power, waking him and causing Galactus's hunger for Old Power to surge beyond his control. Now Hiro Kala leads the remaining Sakaar people to find a new planet.

Beyond Sakaar - the Son of Hulk

Hiro Kala and the remainder of the Sakaarian people escaped in the last stone ship, though no one knew how it was to be piloted with no Old Power remaining. Galactus had destroyed and devoured the Old Power of Sakaar. Hiro commandeers a stone drone and leaves the ship, to the amazement of those aboard the ship. Piloting the drone directly in front of Galactus, Hiro swears vengeance for the destruction of Sakaar. He also claims to be the son of Hulk the Green Scar and mother Caiera the Shadow Queen. While returning to the stone ship, Caiera reveals herself in a trail of Old Power, seemingly sorry for neglecting to care for Hiro in his time of need, instead reserving her council for Skaar. After returning to the stone ship, Hiro Kala kills one of Axeman Bone's soldiers for questioning his newest claim - he is the Sakaarson, the life bringer, and the World Breaker.

Hiro, commanding the stone ship, follows Galactus's energies and lands on the planet Giausar... the first and proudest of the ancient Shadow's worlds. Though he is warned of potential for death at the hands of the secretive and exclusive Giausarian people, he is unafraid - telling them he will come to be known as their new god.

Powers

Being born in a war torn planet, he is experienced at hand to hand combat and is also a good Swordsman, it also lead to his Freedom. sooner or later Hiro Kala was a mature teen and master the Old Power, he has increased human endurance, agility, reflex and strength. His Old Power makes him stronger than normal and he can harden his body, making layer of force fields that make him more durable. He can use the Old Power in tremendous blasts and can make it into a water-like substance, making it flexible enough to go inside a needle's eye. Even after the destruction of Sakaar he is shown to posess an amazing control over the Old Power, seemingly from his heritage (Caiera/Hulk).