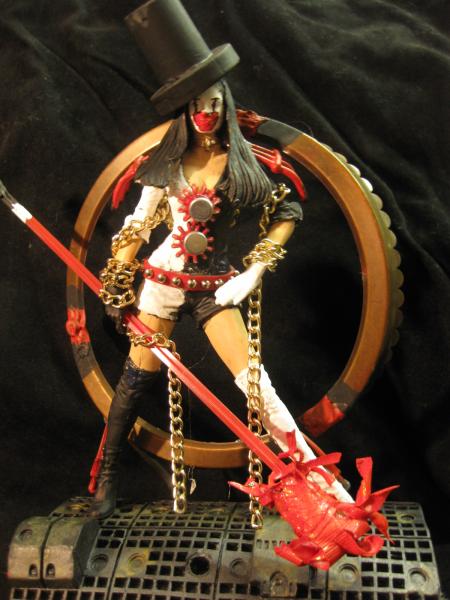 | | |
| --- | --- |
| Custom #: | 17014 |
| Name: | Marciela De La Boza- the Ring Misteress |
| Contest: | Clown Contest |
| Custom Type: | Action Figure |
| Toy Series: | Original |
| Creator: | Merge Sentinel |
| Date Added: | August 30, 2009 |
| Base Figure: | Felicity Shagwell of Mcfarlane's Austin Powers |
| Height: | 8.00 inches |
Marciela de la Boza, as she is now called, wasn't always the ring mistress tyrant of an entire continent of freaks, leading her deformed armies against the masses of a war-ravaged world in a desperate and psychotic plea for acceptance and equality. Once, long ago, her name was Marciela Tiririca, daughter of a wealthy Spanish man in charge of "Project Relegate", a program that Europe had adopted to place all the peoples of Europe back in their correct countries of origin- for free- to dispel the rash of inner conflict that had turned the continent into a mad pit of battle for all but the very lucky, or the very pure of blood. And of course, there was a separate country for the deformed and disabled- La Boza.
Marciela herself was not an ugly child- in fact, she was quite beautiful, and talented. By age ten, she played guitar, harp, and piano at professional levels. She was startlingly intelligent, able to do complex equations in her head without stall. She was, in a ways, a perfect daughter… save one. Marciela Tiririca had no mouth. She could not cry, and this she missed. She could not kiss, and this she missed. But most of all, what Marciela missed was being able to laugh.
Years went by, and her yearning only got worse. At 18, she went into a deep depression that her father couldn't wrench her from by conventional means. It got so bad that he spent thousands of dollars to recreate an old-style circus, complete with acrobats, beast tamers, a ringmaster, and clowns, brought over from the other side of the world to perform just for her. Such a sight, he thought, would surely prove that he still loved her, and that she didn't need a mouth to be happy. He was very, very wrong.
The lions roared, their tamers shouting with golden chains and whips. The ringmaster called orders, his voice his only power, and what a power it was. And the clowns… they smiled so… so wide.
Marciela snapped a little inside that day. She wanted to tame, to lead, to laugh. But she knew it would never be hers. All she could do was be. And that night, she decided not even to do that.
Wandering off alone with nothing but the clothes on her back, Marciela wandered into the Spanish nuclear deserts to die. And in a way, she got her wish.
When she awoke two days later, she was in a house with a man with no legs and a woman with hair all over her body. They had cared for her and given her food through an IV that they had found at the hospital, truly cared for her. This, she knew, was la Boza, and when she saw what her own family, her own government, her own world, had relegated this kindness to- poverty, disease, death, orphaned children lying on dirt, animals tearing defenseless freaks apart from their few remaining limbs, people lying in their own excrement as a means of warmth- she knew that this was where she, as a freak, was doomed to be. This was her home now. The idea of it was so amazing that she did something she had never done before: Marciela laughed.
The insane laughter was all that could be heard through La Boza. People came from miles around to see the mouthless girl laugh, and through her pain, they found, somehow, hope. Their new symbol of hope needed a costume, though, and, when questioned, Marciela knew exactly who she wanted to be. A tamer. A Leader. A Clown.
Thus, Marciela Tiririca died, and Marciela de la Boza replaced her, the maniacal laughing façade for the pain that all of La Boza felt. This was not fair. This was not right. And now, the world will pay. The Circus of La Boza, the most violent and destructive terrorist group ever created, held together by broken flesh and twisted metal and a laughing figurehead who held all of their hopes and dreams, was born.
For who can stand against those who, against even their own will, forever laugh in the face of this hell?
-----------------------------
Marciela is based on a Felicity Shagwell doll, filed down and repainted extensively with acrylics. She uses parts of many things; Barbie accessories like rakes, sharpie caps, bracelets, Matrix Sentinel pieces, broken things off of a Space Jam spaceship, a toy cat food dish, a fake flower, some Poly Pocket items, probably some stuff I'm forgetting. The base is made of a Matrix Sentinel base and a leftover metal ring from an old lamp I found.

Please enjoy my creation, as I consider it as my best work thus far published to the site, and hope you will give my ample forethought due consideration.