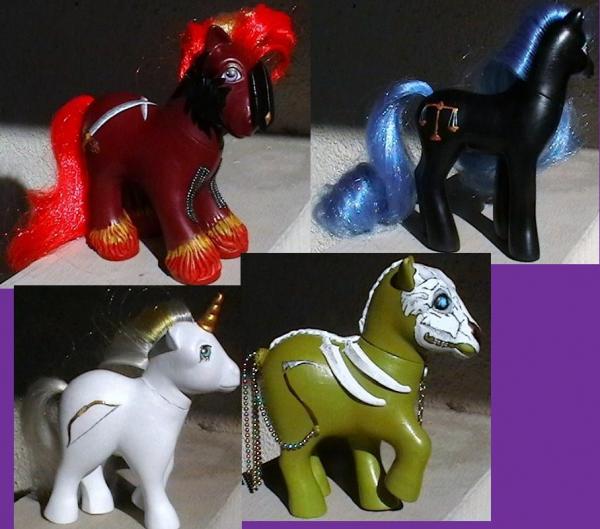 The newest additions to my "My Lil' Pwnies" line of customs. I tried to base these figures from biblical scriptures (read and re-read Revelations, Zechariah, and some other choice passages), but that made for some pretty plain figures, so I ended up adding my own artist's interpretation.
I also tried to stay true to the "My Little Pony" scheme of butt-pics, and that proved to be easier.
Except for Death, they all have their original MLP hair which I washed and conditioned.
Painted with citadel paints.

"Anti-Christ"/"Holy Spirit"/[other] (depends on interpretation)
White Pwnie
"I looked, and there before me was a white horse! Its rider held a bow, and he was given a crown, and he rode out as a conquerer bent on conquest."
Full-body white paint job, has a bow (but no arrow) as its "cutie mark", and painted the horn golden (to symbolize the crown).

"War"
Red Pwnie
"Then another horse came out, a fiery red one. Its rider was given power to take peace from the earth and to make men slay each other. To him was given a large sword."
Full body-base coat of gore red, painted fires at his foots, and huge swords as his "cutie marks" that are long enough to cross over to the other side. Curled the hair tightly to make it more remeniscent of the red mohawk the ancient old-timey soldiers had on their war helms. Painted and glued on some fodder pieces for his armor.

"Famine"
Black Pwnie
"I looked, and there before me was a black horse! Its rider was holding a pair of scales in his hands. Then I heard what sounded like a voice among the four living creatures, saying, 'A quart of wheat for a day's wages, and three quarts of barley for a day's wages, and do not damage the oil and the wine!'"
Full-body black paint job. Painted on a golden, ancient weight scale for the cutie mark. In the above quote, the "four living creatures" does NOT refer to the horses or thier riders, but rather some dudes in heaven that were standing near the dude who was having this whole vision. I think whoever said it, was giving Famine instructions on what to do on earth/to earth's food sources.

"Death"
Green Pwnie
"I looked, and there before me was a pale horse! Its rider was named Death, and Hades was following close behind him. They were given power over a fourth of the earth to kill by sword, famine and plague, and by the wild beasts of the earth."
Full-body greenish yellowish paint job, since the word "pale" referred to the palor bodies get when they are close to death or already dead. In some translations the original hebrew word could also mean "greenish" or "yellowish"...so I went for the green zombie rot kind of look. Chopped off the horn (this was a unicorn pony) and apoxied a nasty stump, painted on the skull, glued on some metal beads for the tail and glued on some random plastic pieces for the ribs. Added some glue detail, and painted them white. The cutie mark is a grim-reaper type scythe. I had originally intended on also making Hades, but I literally ran out of time and she's only half-finsihed even now. I'll post her up seperatly after the contest.

Thanks for looking guys, and don't forget to vote a 5!! Help me to PWN the competition!