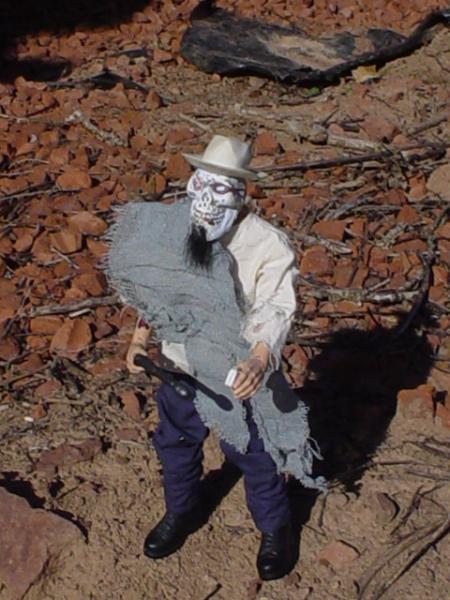 When swine flu has given way to canine and feline flu, the lastest Aids vaccine has created a virus more deadly then mankind has ever seen, and the bad guys got the bomb, the Earth is left a charred and desolate husk! Monsters, mutants, and undead roam the land, small bands of humans fight for survival. Out of the wasteland walks a man...er mutant...er zombie? He is Texas Bob, he walks cause all the horses were eaten or mutated into stygian beasts! Texas Bob, silent but deadly. Armed with his trusty grenade pistol and a pack of ,"reds," yes he smokes, but when your technically dead or undead as the case may be, does it really matter? Texas Bob, monster fighter, killer of mutants and undead alike, his mission? Round up the remaining humans and rebuild the Earth. Or maybe he is just hungry! So cheer or beware if Texas Bob comes to your town, or what use to be your town! Thanks for looking and enjoy.
HEAD: Blow plastic skull from the Dollartree, some paint, Apoxy Sculpt work and
craft fur work by me.
BODY: Can't remember the make, 1/6 scale I picked up cheap on a website!
OUTFIT AND EQUIPMENT: Most is from Monkeydepot, rest from a website.