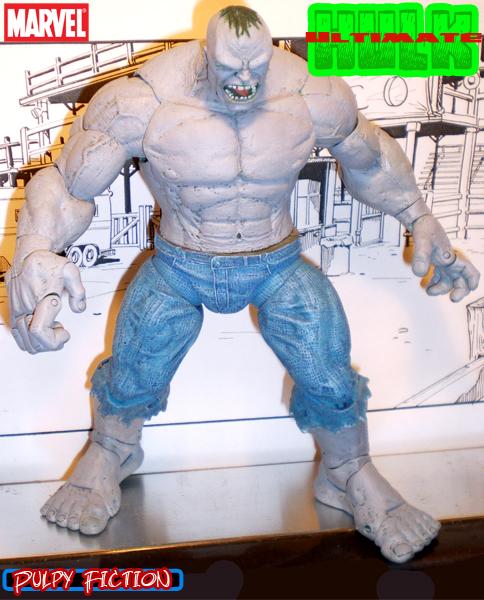 Hi folks!

I wanted a non select version of the Hitch/Millar Ultimates version of the hulk.

I liked the facial features of the 'Hulk Classics' savage Hulk. Especially the nose, I feel it really fit the Hitch style. I looked over the books, and what I saw in the savage hulks face is thoroughly exemplified in the time during the Ultimates series where they squared off against the aliens.

What I didn't like about the head was having to Dremel down the hair to re-sculpt it. It took a bit to get it uniform to my liking. Once it was cleaned and sanded up, I sculpted over it to really polish it up, and then I sculpted hair over that. I also re-sculpted and added teeth (molars), and a tongue. I felt the tongue looked missing, and the teeth on my figure were just simply wrong, the sample photo of the original head sculpt is from another figure. My figure was missing part of its incisor and the spacing/sculpting on the rest were messed up, so I remade them.

For the body, I chose the Face off Hulk, first for his height, Ultimate hulk is quite big, and this figure towers over many of the legends line (it's pretty much the tallest legends Hulk). Second I chose this figure for the texture of the pants I wanted that denim/thick weave cloth.
I only ended changing one thing on the body I had to swap the ridiculous right hand the figure had, a static flat hand with limited, unnatural, and useless articulation. I swapped it out for the Classics savage Hulk's.

Finally when I got to the paints I painted the skin a uniform olive green, yeah I know he's the grey hulk, but I then used the dry brushing technique to build layers of grey up. I wanted the green to be in the layers of shadow of the figures sculpt.

Now as for the pants and the texture. I started with a darker blue and dry brushed layers of lighter blue over. To end it I did a light layer of white dry brushed over, and then did the bottom of the pants fraying/tears tipped with white to give it that jean effect.