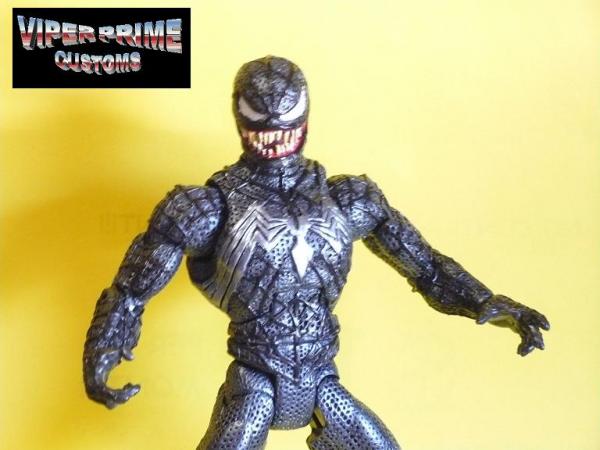 "Never wound...what you can't kill."

If any of you out their have been wondering where I have been this is why. This has got to be the hardest custom I have worked on...ever. Here is the recipe:

Body-DCUD Black Suit Superman (in the movie he was bigger than Spider-Man but not drastically. This figure was a perfect choice on muscularity and height)
Hands-Hasbro's Spider-man 3 Venom figure.
Teeth-Tooth pick ends
and this layers of Fix-It sculpt.

I didn't like the storyline for Venom in Spider-Man 3, but I did love his look. I never found a Venom figure that really captured his essence from the movie, so here his my little interpretation of what he is. One thing I've noticed about all Spider-Man movie figures is that they sculpt the "texture" of the costume on the "non-wbbed" areas of the body. I do not mind that but on venom the costume texture is everywhere. I did my best to get the "honeycomb" design of the costume by putting thin layers of fixit, head-to-toe, and then engraved little holes with a tooth pick.(Example. Picture 2) The head was challenging because I cut off Superman's hair then filed down his mouth the make Venom's throat more concave. Areas that had artulation challenges (I.e. sholders, elbows, knees, etc.) I dremmeled the the little holes. Then I sculpted the web patterns, which took the longest. I took advantage of the fact the his web design are more like a real spider's web, sloppy and no specific pattern. Spider-Man's are even and measured out where Venom's have more spacing involved. I will tell you that this figure isn't 100% accurate, but I think it one of the best movie Venom figures to be had.

Paint Apps:

This was most imortant because I noticed in the movie his web lines were black where most figures, on the market, have silver. What I was paint the whole figure flat black, drybrushed the figure in a gun metal/silver mix, and painted the webs in a high gloss black. I feel that this is a more accurate color scheme of the figure. At first glance he is black, but if you look at him real good you can see many different huges of a black. Black Spider-Man did have silver web patterns and I think that is where the confusion comes in. Venom is supposed to be an anti-Spider-Man, and his costume represents a deranged version of Spider-Man's black costume (kinda like Spider-Carnage). My goal was to really capture that look and style. Last I purposely didn'y paint his finger-nails because I felt they stand out too much and I prefer the comic look of the black nails.

I hope you all like this figure, I worked really hard on it, and I feel it is my best Custom to date. Thanks for viewing. Enjoy!