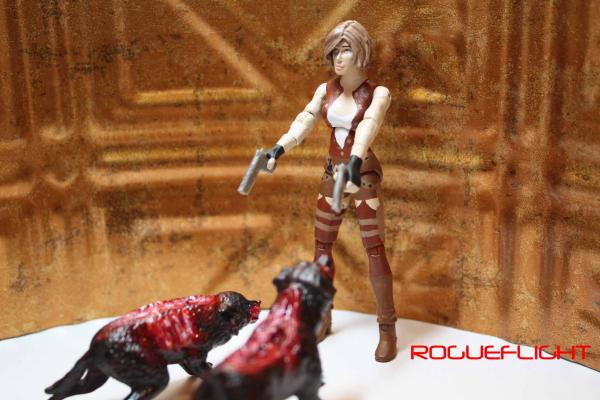 This is my fan art version of Alice the zombie killer, with two post apocalyptic zombie dogs. Alice's body is a 3.75" G.I. Joe Scarlett with a 3.75" G.I. Joe Agent Helix head. A particular challenge was grinding off all of Scarlett's gear to include her grenade, shoulder padding, belt, knife and sheath, and boot pouches. The entire figure was sanded and imperfections filled with Squadron Products brand white putty. The paints used were Model Master Acryl acrylics. The pistols are Agent Helix's that were trimmed down; the crossbow is Scarlett's. Her outer coat originally belonged to an Endor Han Solo, and was dyed.

The zombie dogs were an interesting project, and included a lot of rotary tool work. One is a vintage wolf that came packaged with Snake Eyes, and one is a current G.I. Joe Junkyard that came with the figure Mutt. Flats were ground down the dog's backs, and the spinal columns were formed with the rotary tool. Ribs, leg bones, and facial damage were done with the rotary tool as well. Layers of white primer, flesh tone paint, red paint, burgundy paint mix, and a gloss clear finished off the dogs.

This was my first complete 3.75" custom figure, and I still want to add more to her (cloth holsters, and a shotgun with back sheath). I lost track of total hours involved at about nine hours into the project.