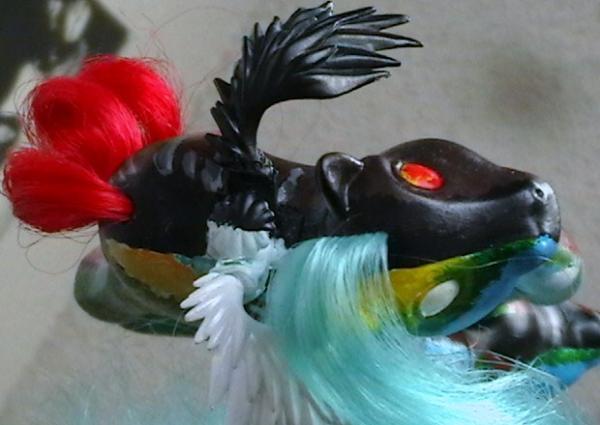 | | |
| --- | --- |
| Custom #: | 18271 |
| Name: | Hades - 4 Pwnies of Apocalypse |
| Custom Type: | Action Figure |
| Toy Series: | Original |
| Creator: | cookiin |
| Date Added: | November 18, 2009 |
| Base Figure: | MLP Flutter Pony |
| Height: | 4.50 inches |
This is the Hades Pwnies I didn't finish in time for the Four Horsemen Custom Contest.

Full body paint job with citadel paints, re-rooted her tail hair.

This is also kinda biblically based, in one interpretation, apparently hades is that place everyone used to go to when they died before Christ died. There's Paradise, or Abraham's Bossom, where the good people who believed in the hewbrew God went. There is the other half Tartarus, where everyone else and the sinners go, for torment and stuff. Seperating these two sides is a great uncrossable chasm. In one story abraham is talking to a dude on the other side about where they are and why, so for some reason you could talk to the other side. Probably very figurative.

So, on my pwnie, I made half of her "Paradise" with a flowing river of water that rushes to her feet and free sky (yellow parts) and green grasses. There is a cliff, the higher ground is her head and the river has a water fall there. The blue hair falls on that side to also act as the waterfall.

The black line represents the great chasm and divids her in half from chest, up her head, down her back, and around her butt.

The other side is the "Tartarus" side, is very cavern or cave-like, and dark. No water, only fires and blouders everywhere. Got a few stalagtites on the celing (or is it, stalagmites? who knows.) A random chain wraps around her foreleg because apparently there are some fallen angels imprisoned there. Her tail can be a river of fire or whatever. Lava!

The black/white wings just add to the astheics, since I did use a Flutter Pony. If you press down on the button on her back, her wings go up and down like she's flying! Yay! In the group pics you can see her "following" Death like it says in the bible when the Four Horsemen are summoned to the earth.