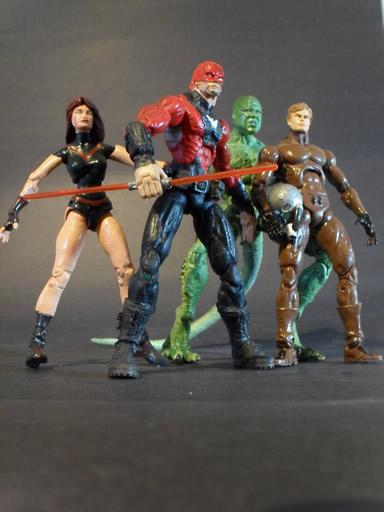 Some old figure I just never got around to posting...

The liberators are a superhuman task force who appear at the climax of the plot arc. They spearhead an invasion of america and are from a coalition of nations opposed to the united states' foreign policy. This international collective is made up of china, syria, north korea, iran, and rogue elements of the french and russian governments. The liberators and their overseers are an opposing counterpart to the ultimates and s.H.I.E.L.D., Respectively.
"We told you to stop making super people, america. We told you not to interfere with cultures you can never understand. This is what happens when your ambitions outstrip your capabilities. The empire takes a fall. Congratulations, ladies and gentlemen...The great satan has just been liberated."
- The colonel

Colonel abdul al-rahman ( iran) - first appears in the ultimates 2 #7 as a thin and sickly 17-year-old muslim boy from iranian azerbaijan (as stated in the ultimates v2 #12) who witnesses the captain america led invasion of his country. Outraged, he volunteers for an experimental program and becomes the middle east counterpart to captain america, as well as the only other person to survive the super-soldier process. Killed by captain america. However, his body was taken by s.H.I.E.L.D and sent to dr. Branklin at the end of the "grand theft america" arc.

The abomination ( china) - real name chang lam, he is the liberator's version of the hulk. He possesses equal strength and retains his genius intellect. He is light green and gigantic, but is bald, has pointed ears, scales on his shoulders, and a tail; excepting the tail, the character resembles bryan hitch's character designs for the abomination for the video game incredible hulk: ultimate destruction. Killed by the hulk.

Ant-man ( usa) - henry pym, expelled member of the ultimates. He creates the ultron robots used by the liberators for crowd control and peace keeping following the invasion. In issue 12 he claims to have been working undercover, intending to infiltrate and betray the liberators the entire time. Even though his ultron robots kill many enemy soldiers, he eventually winds up placed in the same cell which once held both banner and thor on the triskellion at different stages of the series.