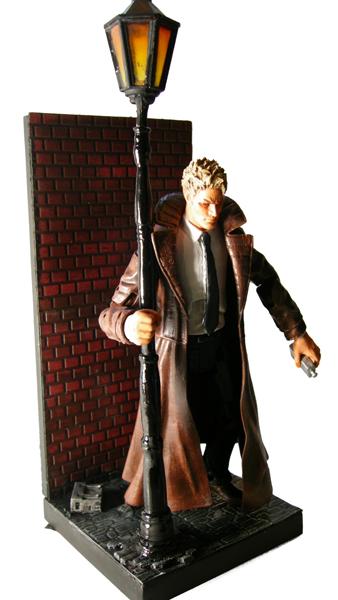 | | |
| --- | --- |
| Custom #: | 18437 |
| Name: | HELLBLAZER John Constantine W/ Grimy London Street Scene |
| Contest: | Steampunk |
| Custom Type: | Action Figure |
| Toy Series: | Sandman |
| Creator: | blaynescott |
| Date Added: | November 29, 2009 |
| Base Figure: | MM Joker Goon |
| Height: | 6.00 inches |
Set in a contemporary, if magical and supernatural world, John Constantine strives for the good of mankind in his own manipulative way against the dark beings and machinery of the universe. A very steampunk rendition of Constantine is found in the DC/Vertigo title "Books of Magick: Life During Wartime" which chronicles the battle between two parallel versions of Earth.



Recipe:
John Constantine:

-ML Sentry (non bearded head, resculpted hair with Aves)
-Movie Masters Joker Goon (torso modified with sculpt, legs, shoes)
-X2 Cyclops (Hands, modified with Aves Sculpt / Magnet)
-HML Nick Fury (Longcoat, Arms)
-BTVS Spike Flask Accessory (resculpted + magnet)
-Plastic Cape fodder (hand cut neck tie)
-Neonium Magnets (for right foot, hand, and flask)
-Gel Type Superglue
-Liquid Type Krazy Glue superglue (paint sealant)

Used the Aves Sculpt + baby powder trick for attaching/maintaining articulation with the head (ball joint), and hands (swivel at the wrists). I made sure one hand was a fist (John loves to fight, heh) and the other ready for casting arcane magics, or drinking heavily - whatever comes first. ;)

Recipe:
London Street Scene Diorama:

-McFarlane Basketball dio (2 parts)
-Roll of Cobblestone texture from Walmart
-Roll of Brick texture from Walmart
-McFarlane Horror Accessory Pack Lamppost (resculpted/hollowed out)
-Random fodder parts for wall-pipe and street junk
-Papers on street + tin can all Aves Sculpt
-Michael's Craft Store AA-Battery-> To -> 100 LEDs (trimmed to 1 LED)
(wired from backside of dio, underneath, and up through Lamppost to the top)
-Gurella Glue (to affix AA-Battery holder firmly to the back-side of the dio)


For both pieces: Vallejo Acrylic paints and Citadel Washes + Vallejo Matte Varnish.

The Lamppost light lights up from a switch on the back, and can act as a small night light as it shines through the tinted lamppost planes-plastic.

Magnets connect the flask (containing either booze or holy water I suppose) to John Constantine's left hand.
A large magnet superglued to the underside of the dio allows the figure to magnetically connect his right food to the cobblestone ground without the need for any foot pegs.

Overall, I'm really happy with how the figure turned out: I've wanted to make a super articulated Hellblazer figure for some time, and this version of John Constantine comes complete with a gritty London, England street scene.