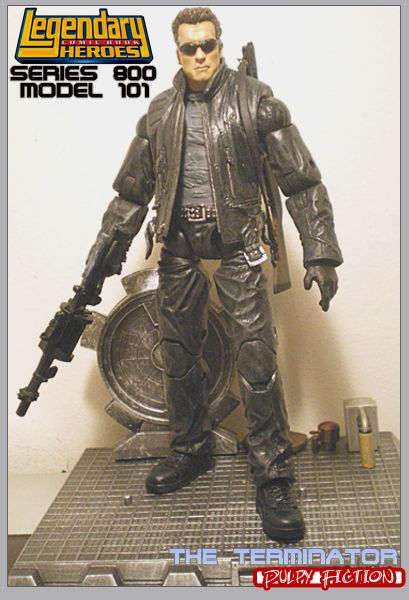 Well hi again folks!
This came together quickly for me because I was excited to work on it. Due to the parts I used, I thought of it as on par as the average marvel legends figure's articulation, and seeing that there was a longstanding terminator series of comics, I felt it was best to represent it like a legendary comic book hero's.
So that's what it is, my version of the LEGENDARY COMIC BOOK HEROES take on the Terminator.

Recipe:
Head, Hands, Jacket, and Accessories: McFarlane Terminator
Torso and Arms: TNA James Storm
Legs and Feet: TNA Lance Hoyt

I liked the Mcfarlane figure, it was a gift from a friend who cleaned house. I'm an articulation nut though and I wasn't happy looking at it.
I got these 2 wrestling figures for just pennies a glass, and so I took the upper half of the James Storm, removed the jacket, sculpted the shirt on the chest, including a couple of tears for battle damage, wrinkles in the fabric, and the collar.
Although I loved how the McFarlane Terminator jacket looked, I had to repaint it to match it to the wrestler's arms. After laying down my flat blacks, I mimicked the treatment the jacket originally had to look aged, by some dry brushing and a light wash, I also did so to the biker pants. I painted the boots with a some dirt spray, and a bit of dirt dry brushing. I felt they were a little too shiny plastic looking to be left. I don't think it came up too well in the photos, but at least it got rid of the massive glare of the original shiny plastic. It looks a little too dark, maybe I need to do a quick lighter sweep to make it a bit more visible.

Thanks for the view, and... "I'll be back!"