Iron Spider (Marvel Legends) Custom Action Figure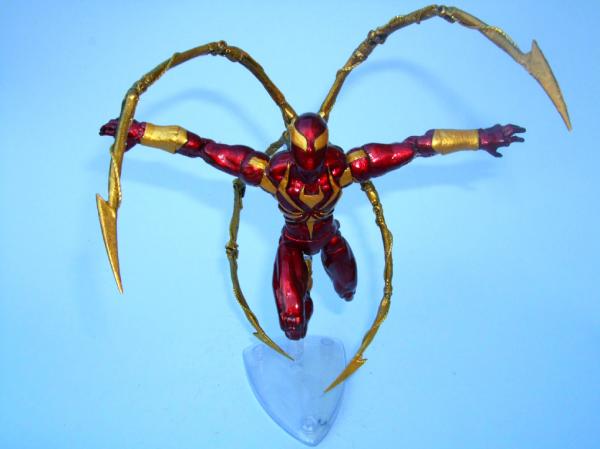 The final figure from my CustomCon24 entry.

Peter Parker takes off his mask for all the world to see and with support from Iron Man, dons the Iron Spider suit! The suit has 4 mechanical legs to help Peter in his fight against crime, and Peter has suprises of his own up his sleeves: super strong spider stingers that can knock out bad guys!
Iron Spider comes with an alternate, unmasked head, 4 magnetic spider attack legs, a magnetic backpack and 2 spider stingers.




Now, this was more of a challenge. The main figure was pretty easy and the only thing that's a little interesting about it is that I painted it silver and then coated it with a transparent red to get that shiny metallic red effect.
I also put magnets in the palms of his hands so that I could attach his 'spider stingers.'
Image
Scarlet Spider, Ben Reilly and Iron Spider all use the head from a Marvel Legends Longshot figure. As they are meant to be genetically identical, I thought it appropriate to use the same base head for each. I tried to vary the expression and hairstyles though.


The spider arms were a bit of a headache. I used flossers and tiny joints from different sources so that they could move and rotate, but the real challenge was attaching them to the figure. I embedded a magnet in the figure's back which a backpack could then attach to. The backpack has 5 magnetic positions to attach the legs to. I wanted this figure to have the (nonsensical) 3 legs that Spidey had in the comic, but to also be able to have 4 legs (as would make sense) and is the standard for the Initiative Scarlet Spiders. I had also wanted to have the claw like ends be removable and interchangeable with some photon cannons which the Scarlet Spiders used. Unfortunately, I had to scrap this as the cannons were too heavy for the magnets and the legs just drooped down.
Pictures
User Comments