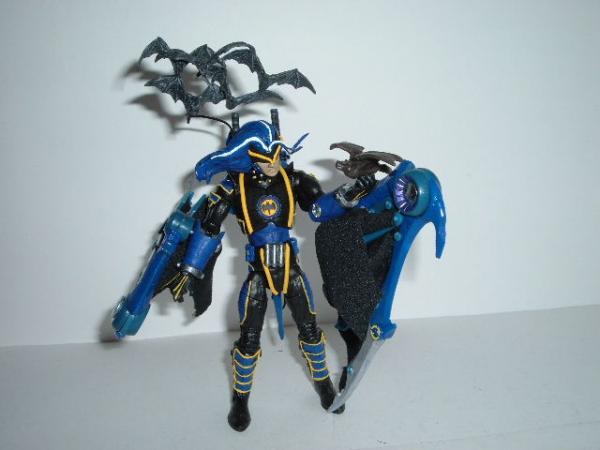 The year is 20XX and civilization has just rebuilt itself from the ashes of World War 3. This is now a world of vast technology progression, a neon colored paradise working under domes for the benefit of all mankind, but nothing could be farther from the truth as the underworld and powerbrokers pull the strings of the hardworking citizens through fear and intimidation. With cyborg thugs, living computer viruses, powerful psychics, ninja mercenaries, crooked police, power mad AI and dead zone mutates, at their disposal, it is now more than ever that the world has a need for true heroes, heroes that represent this unknown future age, the age of the cyber punk.

This ain't your father's Batman, heck it isn't even your Batman. Takashi Waynesboro is a genius that specializes in cybernetic sonic technology. His patented technology is used in the fields of healing, media, and teaching, this made him a very rich man and his life with his sons and wife made him a very happy man. But even rich and happy men are made to bend to the will of the corrupt as the criminal element threatened his family's lives if Waynesboro did not make weapons based on his sonic technology. Never telling a soul, he made the weapons and then used his money and influence to move to another dome named Gotham. Where he led a quiet life out of the spotlight with his family, but on one fateful night after a holo-vid showing of the newest masked martial artist movie as Waynesboro and his family were walking home they were confronted by a single criminal who sought to rob them. The family tried to run, but the criminal just opened fire on them and one by one they dropped to the ground before Waynesboro knew what was happening, Waynesboro rushed towards the criminal with little regards for his own life. With Waynesboro inside his line of fire the criminal pulled the trigger over and over again with no success of dropping Waynesboro, the criminal became scared, dropped the weapon and ran. Picking up the weapon he found that it was based on the designs that he had given to the evil men that threatened his family and now with the same weapon that he made to save his family was used to kill his family and maybe countless more innocent people. The reason the weapon did not work on him was the same reason he began work on sonic tech in the first place, Waynesboro was born deaf and the weapon was made to scramble the brain synapses of the person aimed in front of the weapon's sound pitch and knock them unconscious, but Waynesboro thought that maybe that wasn't enough for the corrupt men as they unlocked the weapons potential and made it lethal and the proof was in his family's lifeless bodies that now surrounded him.
Waynesboro made a vow on his family's graves that he would do all he could to save others from the fate that had befallen them, eliminate every weapon based on his design, and bring justice to all those that had a hand in their deaths in repentance for making the damnable weapons in the first place. Using his genius, he built a memory muscle light armored suit. The suit was programmed with holo-vid downloads of martial arts that stimulated his body into simulating the moves that were on the downloads and within the span of two months, he learned every martial art he could program into the suit. The headpiece of the suit was a crowning piece of sonic technology as it wasn't just used as radar and hearing device for the deaf Waynesboro, it could also pick up sound echoes even days after sounds were made, this was an invaluable tool in his detective work and the mask could even rely sounds to animals in his vicinity that use sound as pathways or command signals such as dogs, rats, and of course bats. Which is the way he ended with the moniker of Batman during an early test flight of his equipment, Waynesboro used bats to flood a Yakuza office as a distraction as he defeated the gangsters and from then Batman was a the name the underworld soon began to fear. Waynesboro updated is armor to look the part of a shadowed figure in a world of neon. He added neon lights to his armor to blend in with his surroundings, but the lights also served a second purpose as different patterns of light seen and processed by the brain allow many a possibility to an enemy such as blindness, confusion, rush to anger, hypnotic effect, unconsciousness, and seizures. His glide wings and Rocket pack allow him easy flight through skies of the megalopolis that is the Gotham dome and his glide wings can fold and be used as shields or tonfa-like bladed weapon. Waynesboro carries a wide array of sonic and light weapons in his arsenal such as two sonic swords capable of vibrating to such a degree that that could cut through the toughest metals, sonic and white noise grenades, a light / heat pistol capable of flash frying the human retina or melting armor into puddles, and many more tricks tucked into the pouches on his waist. His patented Bat signal on his armor's chest piece temporarily drains all power from the suit and focuses it into a burst of heat light that is used to melt and fuse computer or cybernetic parts. All this and a grave determination to see his family avenged make Takashi Waynesboro, Batman the neon knight detective.

Cyber punk Batman was made from a ML Iron Lad chest, movie Wolverine lower body & upper legs, HML Ronin upper arms & lower legs, ML 1st app Iron Man lower arms, Rising Stars Ravenshadow unmasked head, and plenty of odds & ends pieces.

Bat Man is trademark of DC Comics, but the Cyber Punk origin, design, armor and weapons were created by my namesake for this Figure Realm "Cyber Punk" contest.