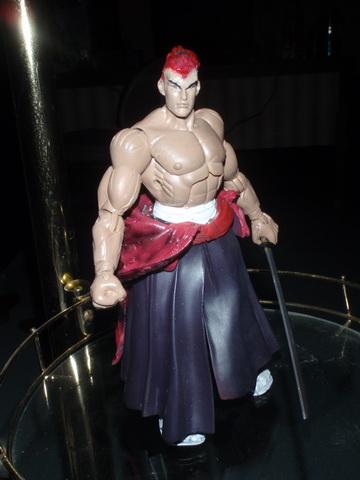 | | |
| --- | --- |
| Custom #: | 19108 |
| Name: | Genjuro Kibagami from the Samurai Shodown Series |
| Custom Type: | Action Figure |
| Toy Series: | Capcom vs. SNK |
| Creator: | ViolentDream |
| Date Added: | January 4, 2010 |
| Base Figure: | SOTA Preview Ryu |
| Height: | 6.50 inches |
Genjuro, from the Samurai Showdown fighting game series from SNK, has always been one of my favorite characters. His name means Mystic Tenth Son in Japanese.
He's also the official rival to Haohmaru, in the series. Here's a little background info from Wikipedia:

"He claims to have killed his family and at least a thousand other people. His mother was a prostitute and, due to her profession, he knows nothing about his father. When he was fifteen, Genjuro killed one of her clients -due to his mother's pleas for protection from her client's drunken rage. As he went to leave, she attacked him, leaving the scar on his back, and he killed her.[62] Orphaned, Nicotine spotted him and took him under his tutelage along with Haohmaru in his dojo.[24] Both students were close friends yet Genjuro's hunger for power worried Nicotine. To test his student, he decided to have them fight to determine who was stronger, with a scroll that promises power as the reward. Genjuro defeats Haohmaru but is banished for his murderous intent. He swore to kill Haohmaru and Nicotine, spiteful for their idealistic beliefs on swordplay.[13] He hates Haohmaru especially, because he resembles the man his mother was with when he killed them (he also was attracted to Shiki at one point, as she resembled his mother).[63] His profession during his travels is a hitokiri or killer-for-hire, often accepting the more "dirty" jobs such as wiping out pirate brigades and bandit hideouts.[24][64] His former clients include Sankuro and Mizuki.[29] In Samurai Shodown: Warriors Rage, Genjuro gains the upper hand in his last duel with Haohmaru. Before he could deal the final blow, a boy stabs him in vengeance for his unnamed father. It's heavily implied that Genjuro dies from his wound and, as promised, an older Haohmaru toasts to his friend's honor."

Recipe:

SOTA Previews Ryu (head), Akuma (body, legs), some wrestling figure's arms. I used the Ryu body and Akuma head in my other customs.
ML Omega Red pony tail
Sculpted the head and parts of his clothes, as well as the scar on his back. Lower garments from XMC Magneto's cape, with the sword from Heihachi of the Tekken toy series.