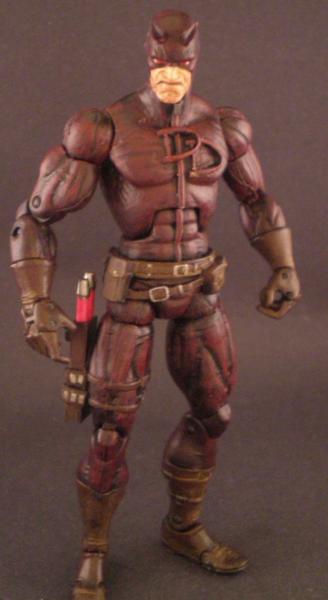 Name: Matthew Murdock
Code Name: Daredevil
Alias: No known alias
Species: Human
Affiliations: Defenders
Powers: Due to a mutation caused by the accident that resulted in his blindness, Daredevils other 4 senses have become extremely enhanced, to the point that he can read through touch the ink on paper, can detect individuals by their scent, and can determine every ingredient in anything he eats, just to name a few. However, most notably he has developed a sort of radar sense, allowing him "see" through something akin to echolocation.
Abilities/Special Training: Daredevil is as strong, fast, and agile as a top level Olympic athlete. He is a master acrobat, able to pull off maneuvers that normal humans could never even attempt. He has also mastered a unique hybrid fighting form, mixing ninjutsu, american boxing, and his acrobatic ability. He also is a master of fighting with his unique billy clubs, which are an arsenal in themselves, able to be used as nunchucks, a medium length fighting stick, and grappling hook.

Here is finished custom #3 for me, and out of those 3, he is definitely my favorite. He's made out of a HML 2-Pack Nick Fury with the old SMC Daredevil head, which I think is the best Daredevil head ever made. I also sculpted his horns to be a bit longer. Built his billy clubs out of stryene tube and the tip of the Hand Ninja 'chucks, and can be made into the billy clubs, long nunchucks, and the fighting stick. The club holster is built from scratch. Painted with GW paints. He'll be available in the coming days.