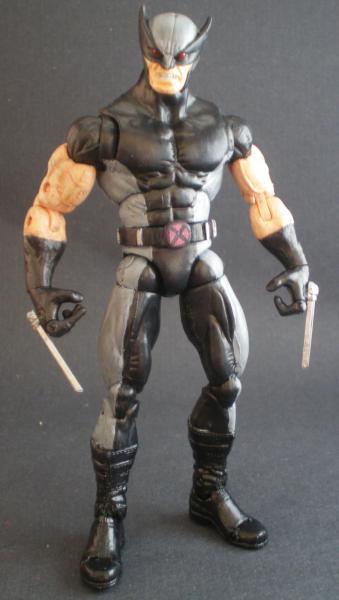 Name: James Howlett
Code Name: Wolverine
Alias: Logan, Weapon X, Patch
Species: Human-Mutant
Affiliations: X-Men and related offshoots, Avengers
Powers: Wolverine has what has been coined a "healing factor", which allows him to heal from practically any injury at a rate exponentially higher than that of a normal human. He has been known to survive the flesh being charred from his bones, and gunshots directly to the skull. His healing factor has also greatly extended his life span, and its believed that he is well over 100 years old. A side effect of his cells constantly regenerating is that he has highly enhanced senses. He also has 6 long retractable bone claws housed in his forearms which he can extend at will. These claws are much denser than normal bone, and are extremely sharp.
During Wolverines time with Weapon X, his entire skeleton, including his claws, was coated in adamantium, a supposedly indestructible metal. This has raised his durability to even higher levels, and his claws now are sharp enough and strong enough that the only limit on what they can cut through is Wolverines own strength. His claws can even pierce the skin of the creature codenamed "Hulk".
Abilities/Special Training: Due to his extensive training as a soldier, a C.I.A. operative, a samurai, a spy, and a member of the X-Men, Wolverine is an exceptional hand-to-hand combatant, having mastered virtually every fighting style on Earth. He is also a trained expert in multiple types of weapons, vehicles, computer systems, explosives, and assassination techniques.
Conclusion: Extremely Dangerous

Head - Astonishing Wolverine
Body, Arms, Upper legs - Brown Costume Wolverine
Lower legs - Bullseye
Claws - Fixit and Bobby pins

Well, I broke down and made an X-Force character, but now I'm glad I did. This was a very satisfying custom to make, and I'm really happy with how much comic accurate he turned out. Two things I'd change if I did it again would be to make the claws come straight out of between his fingers, and to use the HML Black Wolverine body, to ensure I'd have less prep work to avoid chipping, cause man this guys joints are close together.

The lower legs needed a little surgery to keep them from looking too long. I cut out about 1/4" from the boots, and now they seem to be just about the right size. The claws are magnetic. He's available now.