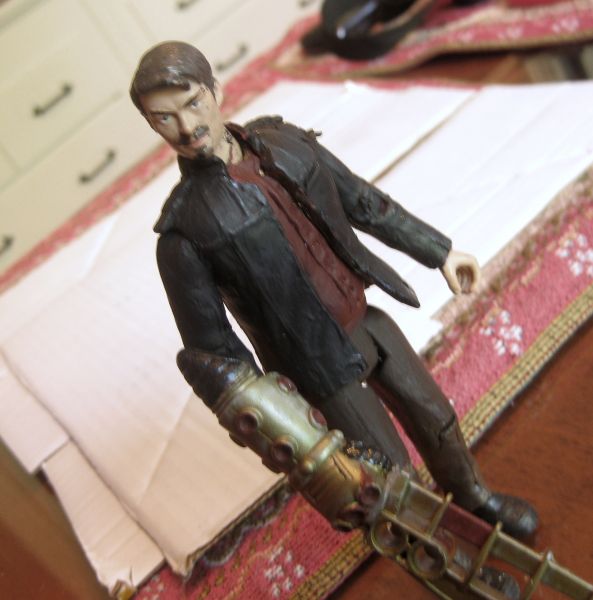 Originally entered for a contest a while back. Since updated.
-------------------------------------------------------------

Started off with a Star Trek Warp Series McCoy from the new movie. The uniform's shirt was actually two parts- the sleeves, which were attached to the figure, and a poncho-like rubber torso-portion cut to fit with sleeve holes in it. I cut the front of it vertically so it fell like a jacket, and sculpted on buttons on one side and cut button holes on the other. Then, I used ApoxieSculpt to actually sculpt over the bare chest of the figure and used a toothpick and watery brush to detail it into a button-up shirt. I went in with an exacto-knife to make the once-poncho look a lot more like a jacket. Then, I used ApoxieSculpt to alter the hairline, add a goatee, and put on a watch. Then it was a matter of repainting every little square centimeter of that the clothing and hair. At the time, gloss paints seemed like a good idea, but retrospectively I should have gone with something duller. But it still turned out well-ish.
EDIT: I've since gone back and used duller paints, with much improvement.

Not included in this contest post for obvious reasons, the figure comes with a full set of armor, including power glove, arm-cannon, chest-piece, visor-helmet, and wrap-around ornamental wings. I will add them later.
EDIT: I've since scrapped the original armor but added a cool arm-sword made from a Bionicle sword and a Spiderman Glove Accessory.

The picture quality is as good as I can get it for now. I'll find a way to better it before posting again.
EDIT: Have added clearer pictures.

EDIT: I've since repainted the figure and added a few details, cleaned it up a bit, and re-photographed it. It should look a little cleaner now and the pose is a bit more intense than the "Oh, look at me, I'm laying on my back on a desk" that it was before. Hope you like the improvements.

- Me.