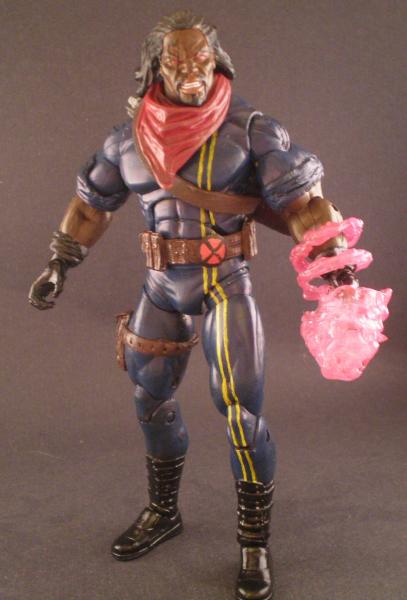 Name: Lucas Bishop
Code Name: None
Alias: None
Species: Human-Mutant
Affiliations: X-Men, Xavier Security Forces
Powers: Bishop is a mutant with the power to absorb energy, either ambient energy or that directed towards him, and to project that energy from his body in the form of concussive blasts. Bishop can also store absorbed energy within his personal reserves, whereupon the energy increases his strength and recuperative abilities, as well as affording him a measure of invulnerability. Also, he instinctively knows his location at all times.
Abilities/Special Training: Bishop is a trained police officer, skilled in the homicide branch. Bishop has also had many years of armed and unarmed combat training, and is a superb marksman with firearms.

Head, Bandanna, Gun, and Holster: ML Bishop
Body: WWE DA Batista with sculpted sleeves, glove cuffs, and leg strap
Belt: Two Bullseye belts with a thumbtack head
Leg Pouches: Two Bullseye leg pouches
Energy ball: Part of a plastic bag and a twist tie, covered in hot glue

(Head and body recipe credit goes to Kyle Robinson)

Name of the game with this guy was to see how quickly I could get him done. Curing time for the Aves not included, he was about an hour and a half. That was probably helped out by deciding to go with a less vibrant color scheme, replacing his usually yellow straps and belts with brown. His pinstripes sure weren't any fun though. Another thing that slowed me down was that I accidentally dropped him face first onto my mixing plate, leading me to have to completely repaint his face instead of just repainting the skin to match the rest of it.

Pretty happy with his energy blast, I really like the way it looks all coiled up around his arm, I think it reminds me of Soul Reaver. I really need to do more of those. Hope you all enjoy, CC is very welcome. He'll be available soon.