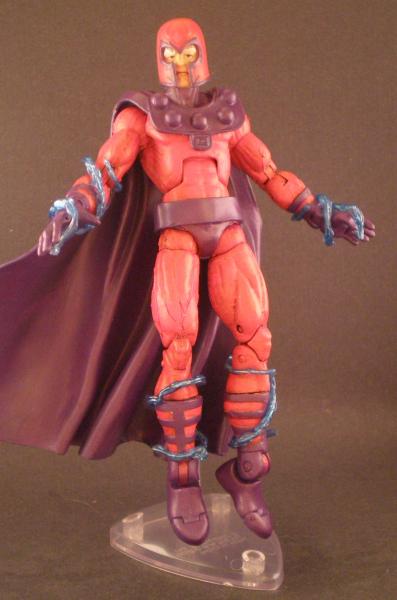 Name: Unknown
Code Name: Magneto
Alias: Erik Magnus Lehnsherr
Species: Human-Mutant
Affiliations: Brotherhood of Mutants
Powers: Magneto possesses the power to control all forms of magnetism. He can shape and manipulate magnetic fields that exist naturally or artificially. It is unclear, however, whether he must draw magnetic force from outside himself (if so, then he can do so over vast distances), or whether he can also generate magnetic force from within himself. Nor is it clear whether Magneto's power is psionic or purely physiological in nature. Magneto's power is, for all practical purposes, limitless. Moreover, he can use his magnetic powers in more than one way simultaneously. He can completely assemble a complicated machine within seconds through his powers. He can erect magnetic force fields with a high degree of impenetrability around himself for protection.
Abilities/Special Training: Magneto has mastered many technological fields, and is an expert on genetic manipulation and engineering, with knowledge far beyond that of contemporary science. He is considered to be a genius in these fields. He can mutate humans in order to give them superhuman powers, or create adult clones of human beings and then manipulate the genetic structures of these clones during their development. He has also learned how to create artificial living beings. Magneto is also an excellent strategist, both in actual battles and games of chess.

Body: FO Punisher
Head, Forearms, Lower Legs, Cape, Helmet: ML Series 3 Magneto
Alternate Head: X-Men Boxset Magneto
Energy strands: Twist ties and hot glue

This guy was one I've wanted to make for a while. I think Magneto is one of the best characters in the Marvel Universe, and he deserves some love. This recipe has been seen before, but it just works so well, theres no reason not to replicate it. He got a full repaint, which I wasn't going to do until I realized that the purple parts on him were not going glittery, but weren't actually all that purple, more of a blue grey. As to his energy strands, I know magnetism probably wouldn't look like that... in fact you wouldn't be able to see it at all, but its always kind of drawn like that, so I figured what the hell. His energy blast and his alternate head are inspired by MvC, but thats about it. I didn't want to do a full out MvC Magneto, just give a little taste of it. It should be noted that he isn't actually quite as neon as the pictures look, I probably need a better camera. Anyways, comments are welcome, he is available now.