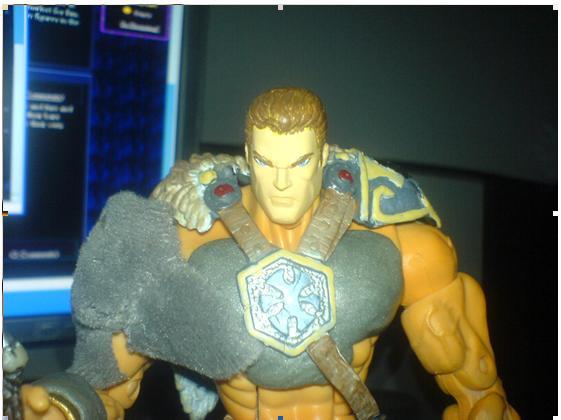 | | |
| --- | --- |
| Custom #: | 1955 |
| Name: | Tredje |
| Custom Type: | Action Figure |
| Toy Series: | Marvel Legends |
| Creator: | yoyi_x |
| Date Added: | March 4, 2007 |
| Base Figure: | Marvel Legends Hercules |
| Height: | 6.00 inches |
Better known as Tredje the slayer, Son of King Jodvik, of the NorthFrost clan. He once was the commander of his father armies. Feared and Respected among his enemies, Tredje helped conquer the lower lands of his father realm. Like his father, Tredje was a fearsome warrior who slays his enemies in no time.

Tredje was faithful to his father, to his king. But his true faithfulness and love was to his wife, Princess Rudbia and the son she was carrying in her womb.

King Jodvik know that Tredje was becoming more powerful every day, and soon he will be able to surpass him. Blinded by jealousy, the King was convinced that Tredje will return to kill him and claim his kingdom.

After one of the bloodiest battles in the volcanic lands of Lavnanq, King Jodvik saw the perfect opportunity to kill his son. When Tredje return victorious with what was left of his men, King Jodvik send his royal guards to kill them. Tired from battle and from the travel they where no match for the royal guards. Except Tredje who took them down with his slayer sword, as he calls it. Unaware of his father betrayal, he thought that his father was in danger and run to the castle to warn and protect him. There he found his wife, Princess Rudbia mortally wounded. Forgetting everything about what was going on, he took her in his arms and rushed to get medical help. At that moment a tremendous explosion blew the entire north hallway. The Greeks where attacking! They were destroying everything and everyone in their path. Avoiding everything, and with his dying wife in his arms, Tredje found the medics and the King at the East Tower. King Jodvik was gathering what was left of his men to; at least, kill the leader of the Greeks. King Jodvik saw Tredje and poisoned arrows were shot hitting him and the Princess. A petrified Tredje saw how the man he has always protected attacked him and his beloved wife. When he was about to react a spear hit Tredje in the middle of his chest, throwing him to his knees. With a cold only known by his enemies, Tredje stood up. Angry, confused, frustrated with his eyes burning with so much rage that he forgot the wounds in his body. Covered in dust, ashes, blood and pain, he took out his slayer sword and engage the men who once fought with him. Tredje took out 15 guards in no time, but King Jodvik escaped and so the life of his wife and unborn son.

But nothing left but hate and pain, Tredje swore to hunt down and slay King Jodvik and the Greeks who attacked and destroyed the castle.