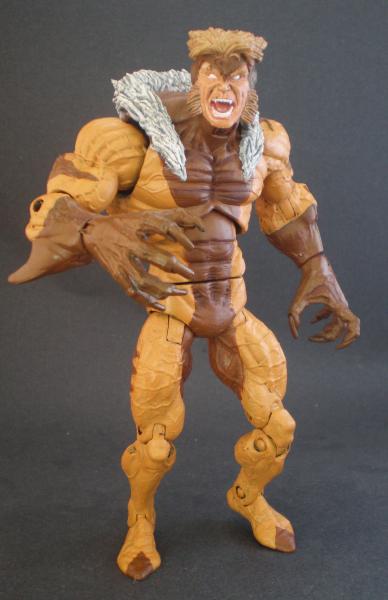 Name: Victor Creed
Codename: Sabretooth
Alias: Slasher, El Tigre
Species: Human-Mutant
Affiliations: Weapon X, Brotherhood of Mutants, Formerly X-Men
Powers: Much like the subject codenamed "Wolverine", Sabretooths mutation has resulted in an amazingly fast rate of healing. He can suffer practically any wound and survive. All of his senses have also been highly enhanced by his mutation, as well as his strength, speed, agility, and endurance. It is unknown what the subjects age is, as he has a vastly increased life span. The final effect of his mutation is a single retractable claw housed within each of his fingers, each of which is strong and sharp enough to rend through substances as durable as bone, wood, and even stone.
Abilities: Sabretooth is a formidable hand-to-hand combatant, having been trained by the Foreigner, the C.I.A., and many others. Sabretooth is also an extraordinary hunter and tracker.

Recipe:

Head: ML Sabretooth
Body: Gargan Venom
Collar and Elbow Spikes: Aves


I grew up watching the 90's animated X-Men series, so a part of me is always going to see the X-Men as they were on that show. So though I like the ML Sabretooth, its not what the picture of him in mind is. So when I first saw this recipe, I knew I had to do it. He got a full repaint (head included), and I think it really came out as my best face painting job so far. He'll be available soon.