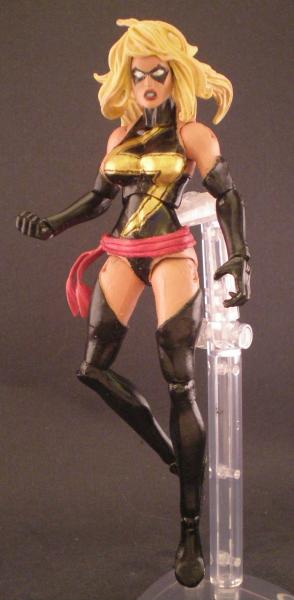 Name: Carol Danvers
Codename: Ms. Marvel
Alias: Warbird, Binary, Ace,
Species: Human-Kree Hybrid
Affiliations: Avengers
Powers: Due to the subjects genetic melding with codename Captain Marvel, the subject has gained the abilities of flight, enhance durability and strength, and the ability to project concussive blasts from her hands.
Abilities: The subject is an accomplished pilot, and is highly trained in hand to hand combat and espionage.

Base: Savage She-Hulk
Flowy part of sash: Psylocke

Without a doubt my favorite heroine, Ms. Marvel was a must do for me. However, due to her... dimensions, it was difficult for me to find a proper base figure for her. Then I saw the Shanna mold for the first time, and I thought it would be perfect. However, I wasn't going to throw down that kind of money for fodder, so I came across the Savage She-Hulk, which is the same base just with a different head and left forearm. This actually worked out better, as I didn't have to sand down the forearm, and Carol has such a temper anyways, that the angry face works well for her. Only problems were that the base is barefoot (which was an easy fix), and has a really strangely textured bikini on. So I started to sand that down and released that the straps actually kind of form into the outline of Carols costume. I didn't just want the main part to have raised edges though, so I also sculpted her gloves and boots. Finally, I sculpted on her sash, and gave her a full repaint, and here she is. She'll be available soon.

Note: The side shots make her head look really big, but its really just her huge hair.