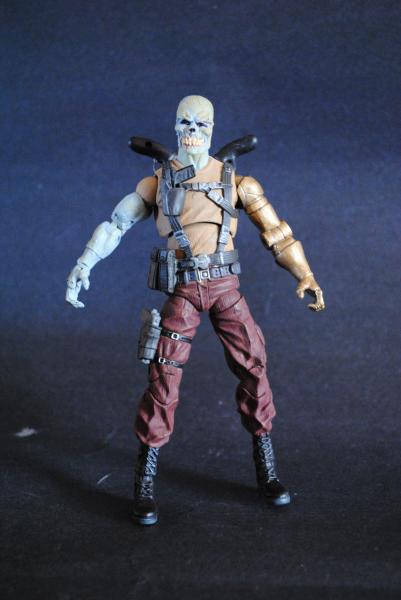 Had to try my hand at this figure.. They mised out not making this guy....


The antihero Terror is an eternal entity that absorbs the talents of others through their dismembered limbs.
Bio:
Terror was once a warlord of Attain who took part in the Sack of Rome. As retaliation the Pope sent a mare against the warlord village, prompting him to slay the demon and eat her heart. Unbeknownst to him, this heinous act cursed him and he was turned into a rotting corpse, a thing he discovered when the decaying was so gruesome that his tribesmen exiled him. He discovered he could purloin parts from corpses and add them to his body. After a brief turn on animal parts, becoming the half-satyr known as Shreck, he eventually settled on human corpses to avoid losing his self. Another help came from Draghignazzo, the Shadow Knight, who helped Shreck into better controlling his powers in exchange for servitude as his undying aide de camp. As his first lieutenant, Shreck was there to bury Draghignazzo's corpse, ensuring the magiks meant to cement his future resurrection would be intact, and then led Draghignazzo's army in battle with Talita, Draghignazzo's former bride and Shreck's current lover. They conquered several territories that Talita ruled with wisdom until the former Warlords ambushed them, killing Talita and forcing Shreck to take her arm and leg to escape. He had since replaced the leg, but had the arm encased in mystical armor, which transferred his "centre," enabling him to rebuild his body while the arm is in his proximity, if not an active part of his body.

Terror, as he calls himself afterward, acts as a hit man and mercenary enforcer, along with Mrs. Primo, his manager and only friend and confidante, who hides Terror's activities and peculiar needs behind the facade of an import-export firm. However a botched mission causes Mrs. Primo and Terror to blow their cover and forces them to confront an apocalyctic cult, whose leader is Talita. In the past, Shreck had stolen ancient runes from Draghignazzo's tomb, hoping to resurrect Talita. Even though he believed his attempts were unsuccessful, Talita eventually revives in modern times, with powers similar to Terror's, but a fresh appearance and an insatiable need for her lost arm, as without it she's left in crippling pain. Talita's servants manage to cripple Mrs. Primo and eventually recapture Terror's arm.

Pondering his gratitude (and feelings) for the ever loyal Mrs. Primo and the increasing madness of Talita, Terror gathers enough strength for a last stand, reclaiming Talita's arm and foiling her plans.
[edit]

Recipe:
Head:DC Black Mask
Body: ML
Right Arm: ML Dr. Doom
Left Arm: ML Weapon X
I really wanted to capture the look of the rotten flesh!!!
As always comments are welcome....