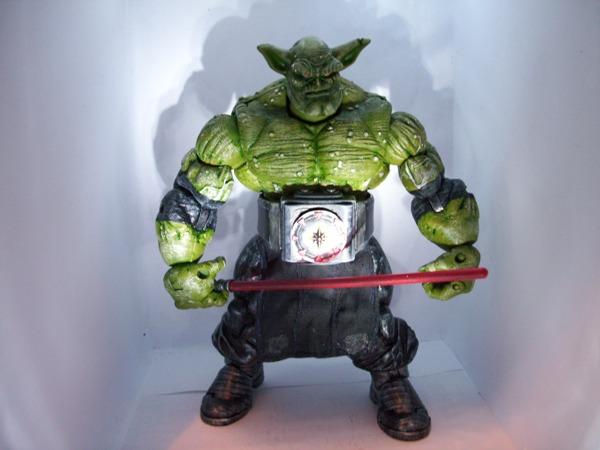 In my own alternate galaxy Darth Adoy is a clone of Yoda created on Kamino. After his battle in the senate with Yoda , Palpatine discovered Yoda's lost cloak and stored it as a trophy of his victory. It wasn't until the closing stages of order 66 that his evil mind thought of a use for cloak, if it was possible to clone Jango then why not Yoda?. So, Palpatine sent Vader on a mission to see the cloners on Kamino. The cloners harvested skin cells from the old cloak and the work began. The Kaminoans where working to the strict instruction that he needed to be bigger than Yoda so he was given growth enhancers. Due to Yoda's superior genetic structure the Kaminoans found it impossible to stabilise the growth enhancers and Adoy continued to return to Yoda's size when the enhancers wore off. It was Palpatine that solved this problem with a belt that continously pumps the growth enhancers through Darth Adoy's system. Darth Adoy's purpose was to seek out and destroy the last known remaining Jedi, jedi master Yoda. After running a few test missions and information gathering excursions he quickly figured out the whereabouts of Yoda and rushed to confront the jedi on Dagobah. Yoda proved there is no match for the real thing and after a long and tense battle pervailed over his evil doppleganger. It is thought that the battle between Yoda and Darth Adoy took place in the same area that Luke had his encounter with Vader. It is Darth Adoy's dark side energies that haunt the area.

OK, the story may be a bit lame but it is what it is. Had this Maestro lying around and was having a bit of a look and thought.... Hmmmmm?, that hairline, perfect colour with a little paint, let's have a bulked Yoda to go with my Vader. Anyhow, onto the recipe::

Base = Maestro Hulk, cut off things on arms.
Head = Maestro Hulk top, eyes and nose, resculpted cheeks, jaw and chin.
Ears = Force battlers Yoda and sculpted to blend in.
Belt = The wife's old watch, Narnia 3.34 shield for the emblem.
Skirts = Fabric with twistie ties sewn inside to make them poseable
Paints = Games workshop, four shades of green, black, grey, white, orange, yellow, red and two silvers.