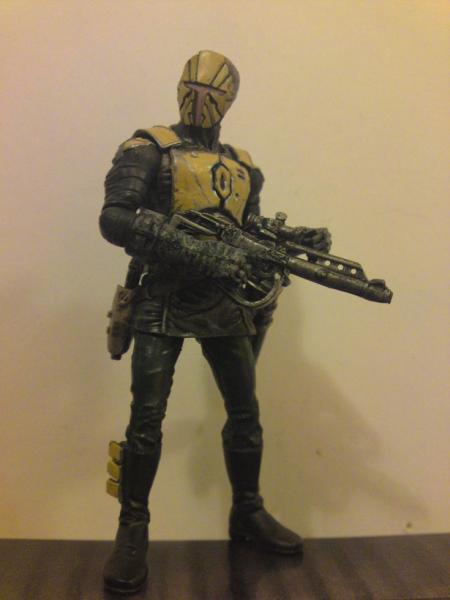 An eerie silence filled the cantina as the bounty hunter entered. A gnarled mess of armour, relics and ragtag apparel, the trappings of someone lost in the Judland wastes for too many cycles. The few remaining parts of his Mando heritage graced only his chest and his head. Long gone were the weapon festooned wrist gauntles, the knee pads with rocket darts, and the infamous jetpack. The trusty old carapace body armour of the legendary mandalorians had seen better days, but it was his helm that held the intrigue. It was not the traditonal T visor of the mandalorions of the day, oh no, it was older, much older. Some say it is the helm of the Mandalor himself, Though how a man of such repute would obtain such an item is lost in mystery itself. He carried surprisingly few weapons for a Mandalore, a heavy pistol was slung about his right hip, a well used Beskad hung from his left. He loosely cradled a carbine in his arms as he surveyed the clientel. Ghost Verd was on the hunt.

This is a last min entry if I'm being totally honest, I was originally going to do the secret apprentice from the force unleash 2 teaser, but if I'm honest it looked cack, so I thought I'd attempt to finish a mando nomad I started aaaages ago. I took Villie from the quinlan vos 2 pack and shaved down his chest and sculpted on the Mandalorian armour using green stuff. The blaaster pistol is Villie's and the Beskad (iron sabre) came from a narnia figure. The carbine is a clone blaster chopped together with an uzi and a pancor jackhammer courtousy of my Joe's. The orignal version was going to be unmasked, but it looked pants, I then tried a standard (boba fett) helmet but that was too boring, after realising I had 2 mandalor figs from the 3 pack I did a head swap and we have a bingo, ghost verd was born. I then repainted the whole figure using citadel paints. I even did a lil research his armour (well whats left of it) is painted grey symbolising morning or loss and gold for vengence.

So there ya go, one mando, one day, one with the force. Please stick on some comments if you have them, as I very much doubt this is the only mandalorian in the competition.