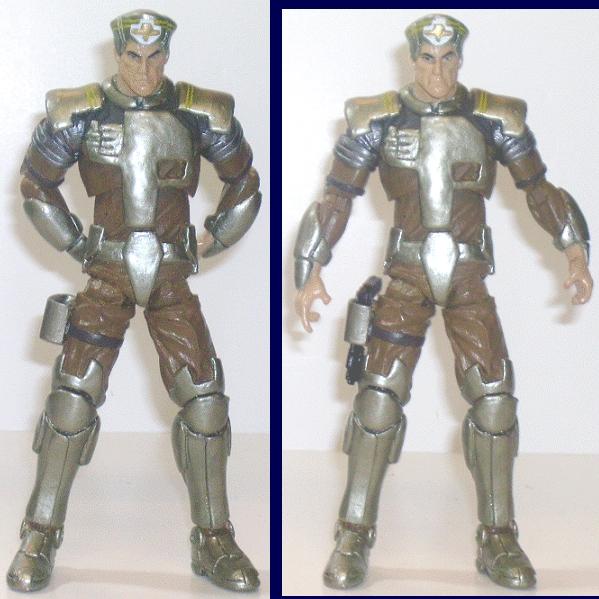 | | |
| --- | --- |
| Custom #: | 21221 |
| Name: | Fleet Admiral Castor Dane |
| Custom Type: | Action Figure |
| Toy Series: | Metroid |
| Creator: | Batman1016 |
| Date Added: | April 23, 2010 |
| Base Figure: | Marvel Legends Punisher (Nemesis Wave) |
| Height: | 6.00 inches |
Second figure today! Rather than go with the old pattern of "good guy/bad guy," I've decided to post the good guys first and leave the bad for later. I do this to shake things up a bit . . . it has NOTHING to do with the possibility that I haven't photographed the villains yet! I swear! Anyway, second figure for the day: Fleet Admiral Castor Dane!

Admiral Dane made his debut in Metroid Prime 3: Corruption as the commanding officer of the GFS Olympus. As the first major character with a speaking role EVER to appear in a Metroid game, he ultimately played a relatively minor role in the game. Still, he's a landmark, and an important person in the game universe, so he gets a figure.

I needed a figure with loose pants and military discipline. I chose the latest Marvel Legends Punisher figure from the Nemesis BAF wave because, let's face it, how many Punishers do we ML collectors have at this point? Did we really NEED another? Well . . . yes, the camo version is actually kinda cool, so I kept that one. But the standard black outfit? Cut it up!

Anyway, as usual, I sculpted all of his armor by hand out of Loctite Epoxy Putty and Crayola Model Magic paper clay. I was forced to actually reference the in-game model since NO full pictures of the character exist online, apparently. Sorry I don't have a real reference pic for you, only concept art. Still, rest assured, his armor is game accurate, for the most part.

Because he's a pretty dull figure otherwise (really, the guy just stands on the bridge of his ship and gives orders), I spruced him up a bit by giving him a sidearm and holster - a pistol from an old TMNT April O'Neil figure - and a gauntlet beam sword. This weapon never actually appeared in the game, but as the Admiral has one in his concept art, I thought it would be fitting. The gauntlet was made from the leg of a 1/144 scale Gundam Wing Zero model kit, and the blade was a tine from a plastic fork. Now he's ready for action!

Admiral Dane: warrior, leader, hero. He may not have done much, but he played his role, commanding the fleet that ended the Phazon threat throughout the galaxy. And for that, we thank him!

See you next mission!