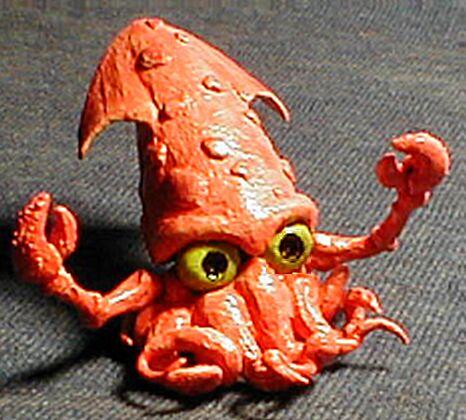 | | |
| --- | --- |
| Custom #: | 21244 |
| Name: | Amoeba |
| Custom Type: | Miniature / Figurine |
| Toy Series: | Sa·Ga |
| Creator: | Patraw |
| Date Added: | April 24, 2010 |
| Base Figure: | Scratch Build |
| Height: | 1.10 inches |
Malevolent cephalopods that have evolved a pair of crustacean-like appendages and pincers. Amoebae and Squids are randomly encountered monsters in Squaresoft's 1993 SaGa III: Jikku No Hasha Nintendo Gameboy roleplaying video game (more commonly known as Final Fantasy Legend III in North America, although that title was a rather dishonest marketing ploy as the SaGa franchise is not part of the Final Fantasy series). Both critters share the exact same game sprite--because the original Gameboy only had relatively-primitive, gray-scale graphics, Squid and Amoeba aren't differentiated by color as they likely would have been on a more advanced console.

Squids have numerous offensive options including the ability to create magical fires and tornadoes (both of which somehow work underwater), dissolve flesh with acidic excretions, blind foes with ink, or physically attack with a tentacle, tusk, or mighty "Wind-Up" blow. Amoebae, while they lack the ability to create tornadoes, employ largely identical talents, except that instead of striking with a single tentacle, they attack with six of their appendages at once, potentially landing multiple hits in a single combat turn. Amoebae are also venomous.

In addition to fighting these creatures, it also possible for your characters to potentially transform into, and play as, a Squid or Amoeba by consuming the proper combination of meats left behind by slain beasts/monsters after the conclusion of a battle. Becoming a Squid monster is possible at experience levels 19 and 20, and an Amoeba monster at levels 25 and 26 (if you're at a higher, or lower, experience level, you'll become something different instead). Additionally, the transformation is also dependent on the elemental affinity of the individual character (eating the flesh of a "fire" beast/monster will have a different effect on the evolution of an "air" character than it would on a "water" one), as well as what their current class is (robot, cyborg, human/mutant, beast, or monster--note that a character cannot advance to a monster form until they have first achieved beast status). Characters that become monsters cannot equip any weapons or armor (due to the often very unique anatomies of such creatures), but they can still cast all of their magic spells.


Materials:
Newsprint, tissue paper, white glue, crazy glue, wire twist ties, sand, nail polish, and acrylic paint.

Dimensions:
[NOTE: Due to the articulation, these values will vary depending on how the joints are positioned;
the numbers given assume a neutral pose.]
4.7 cm/1.9 in. x 2.8 cm/1.1 in. (widest point x highest point)

Articulation:
Eight points: Shoulders (2); elbows (2); wrists (2); and pincers (2).

Time:
Three days; April 20, 22, and 23 (2010).