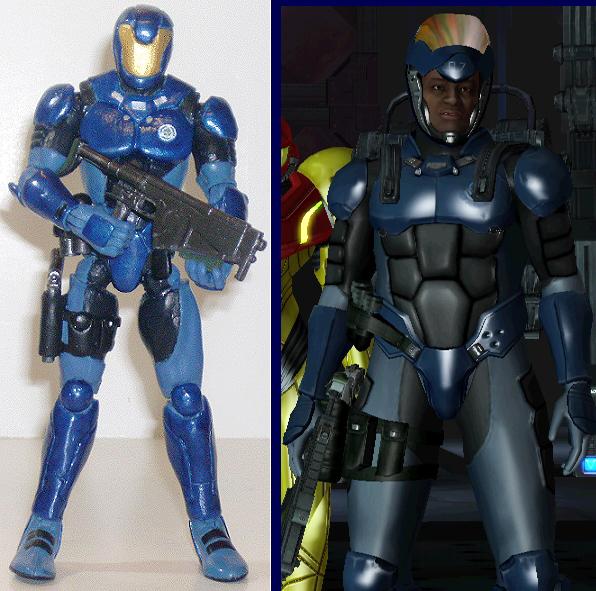 | | |
| --- | --- |
| Custom #: | 21345 |
| Name: | Space Army Officer Anthony Higgs |
| Custom Type: | Action Figure |
| Toy Series: | Metroid |
| Creator: | Batman1016 |
| Date Added: | April 28, 2010 |
| Base Figure: | Marvel Legends Heroes Reborn Iron Man |
| Height: | 6.50 inches |
Hi all! Been almost a week since my last custom post. Life got in the way and all that, but now I'm back with more Metroid-y goodness! Continuing with series two, "Military, Metroids, and Minor Characters," I bring you two more Galactic Federation officers for your enjoyment. First up, Space Army Officer Anthony Higgs!

Yes, it's yet another pre-release figure from the forthcoming Metroid: Other M game, due out June 27. We don't know much about this character, aside from the fact that he's a former teammate of Samus Aran, and that he's the only person in the Galaxy who can get away with calling her "Princess." But despite his lack of background, after scanning over a handful of hi-res screenshots released on various gaming sites, I got a perfect idea of what the character looked like, and was able to translate it into three dimensions for everyone to see!

I started with a Marvel Legends Heroes Reborn Iron Man figure. Not only was he significantly taller than my Samus figure (in the screenshots, Higgs is a BIG dude!), but his armor design actually fairly closely mirrored the in-game armor design of the Federation Army. The sculpting needed was actually fairly limited, a little carving here, a few armor plates there, some gap-filling, and the figure's basic appearance was complete. The head and hands came from a Marvel Legends Kang figure. The hands were needed because Iron Man's hands couldn't hold anything. Kang's half-helmeted head made the perfect starting point for the army helmet, and I was able to sculpt a form-fitting mask from Loctite Epoxy Putty.

Then came the truly challenging part: weapons. Let me tell you, this guy is loaded for BEAR, folks! Easily the most heavily-armed figure I've ever built. The machinegun and pistol both came from an Avatar Colonel Quaritch. Interestingly, neither needed any major modifications. In an amusing coincidence, an Avatar marine machinegun turned backwards looks almost EXACTLY like a Metroid: Other M army machinegun, right down to the colors, gray and green. Just add a shoulder stock and fill in the grip hole, and you're good to go. The grenades were made from a pair of old GI Joe missiles. Simply cut off the launch tails, and you've got some small, hand-held explosives.

But the backpack! Oh, the backpack, people!! MAN, did I have fun with this! I spent over an hour digging through old action figure accessories and vehicles looking for pieces to mimic the massive weapon pack seen in the game! The main pack itself came from a Batman Forever figure (think it was a SCUBA tank). The vertical tanks were made from guns from an Independence Day alien spaceship. The horizontal tanks were made from a Spider-Man Classics Kraven the Hunter missile-launching crossbow . . . thing (stupid accessory, if you ask me). The cables were computer wires, the same type I use for my Metroid neuro-stalks. And the massive cannon is actually two GI Joe missile launchers glued end to end and slightly resculpted. The missile itself, of course, fires from the gun, and I painted it to look like a super-missile from Super Metroid. And the best part? Every weapon stows on the character's body. The grenades have beltloops, the pistol has a holster, and the machinegun clips onto the back of the cannon pack, just like in the game.

I may not know much about him, but I know everything I need to. Anthony Higgs has attitude, power, and more, bigger guns than any Metroid character to precede him. I almost wish the game was multiplayer so I could take this behemoth for a spin and show the galaxy that the back-ups can play hard too! As it is, I hope we get to see a lot of this guy before the credits roll.

See you next mission!