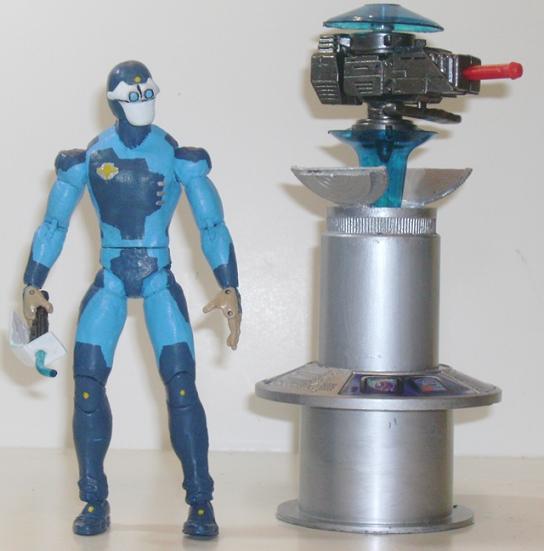 | | |
| --- | --- |
| Custom #: | 21346 |
| Name: | Federation Marine Fleet Mechanic |
| Custom Type: | Action Figure |
| Toy Series: | Metroid |
| Creator: | Batman1016 |
| Date Added: | April 28, 2010 |
| Base Figure: | Marvel Legends Ant-Man |
| Height: | 6.00 inches |
So, second custom of the day, and this one's AWESOME!! . . . Ok, no he's not, he's fairly generic, but I made him, so I'm posting him, and that's that. Meet the Galactic Federation Marine Fleet Trooper Mechanic.

Metroid Prime 3: Corruption was the first game to feature voice acting, as well as the first game to put Samus anywhere that could be considered "friendly territory." The game starts out on the GFS Olympus, a massive Galactic Federation Marine flagship. To give the Olympus a real sense of being a functioning, battle-ready vessel, the ship is populated by all manner of marines and scientists, and of course, Fleet Troopers. These men and women form the backbone of marine operations, and they are found all over the ship.

Though the character looks relatively simple, it required a lot more sculpting than you might think. I used a Marvel Legends Ant-Man figure, a fairly generic superhero in skin-tight spandex. However, the Fleet Trooper uniforms aren't literally skin-tight like a hero's costume, but instead simply formfitting. I had to fill in every muscle and crevice on the figure with Loctite Epoxy Putty until he looked a bit more natural. I also replaced the head (I'd used the original head for another figure, long ago) with one from a modern He-Man figure. Some dremeling, some paint, and the figure itself was done.

However, the real draw of this toy is his accessories. Because the character is so boring, I wanted to give him a weapon that would really make him pop, make him more exciting. What did I come up with? Why, it's a Halberd Class Federation Defense Turret!

The Halberds are force-field suspended cannons that pop out of the ceilings and walls when they detect a threat. Usually, they react when the Olympus gets attacked and boarded by Space Pirates during the first act of the game, but they will also appear if the player decides to act like an @$$ and starts shooting random troopers as well. The guns don't really differentiate between Samus and a real enemy, it seems . . . .

Anyway, the Halberd cannon itself was a grappling hook launcher from a Batman Returns Robin figure, with some other random odds and ends attached. To make the force field turret, I bought a chintzy plastic goblet from a dollar store (the kind rednecks use to drink box-wine at "romantic" picnics *snerk!*) and cut the stem off. The stem formed the base, and the bottom of the cup formed the top shield. As for the computer console, I ripped it out of an old X-Men Hideout playset, and used a plastic screw-on bottle cap for the turret "porthole." Finally, the mechanic's welding mask was sculpted entirely from epoxy putty, and the plasma welder was a GI Joe machinegun with a plastic shield and a plastic fork tine attached to the end.

Though he's not that important, much like the previously listed Federation Marine, Fleet Troopers and Mechanics play a vital role of making the Metroid universe seem all that much more real and populated. But honestly, the fun here wasn't the figure itself, it was his gun! Just coming up with the components, figuring out a clever way to put them all together and make the whole thing work, particularly figuring out the force field, it was a challenge and a joy. I'm seriously considering building some full playset dioramas for these Metroid figures, just so I can design more interesting and ingenious contraptions for them to interact with!

See you next mission!