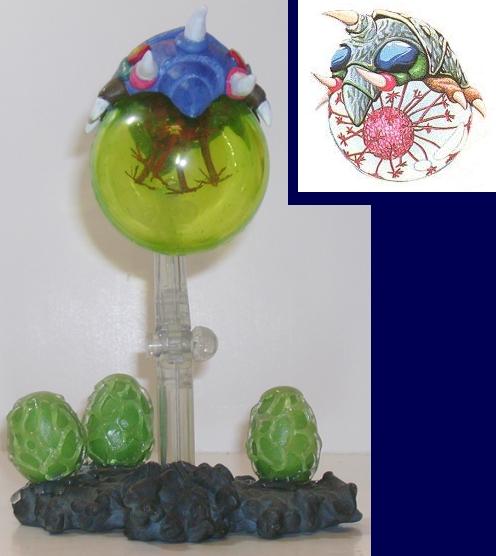 | | |
| --- | --- |
| Custom #: | 21418 |
| Name: | Alpha Metroid |
| Custom Type: | Action Figure |
| Toy Series: | Metroid |
| Creator: | Batman1016 |
| Date Added: | May 1, 2010 |
| Base Figure: | Rubber Glitter Ball |
| Height: | 3.00 inches |
Morning, figure fans! Another day, another pair of Metroid customs from yours truly! Today, I'm continuing with series two of my Metroid line, "Military, Metroids, and Minor Characters." Thus far, we've seen four military personnel. I think it's time to move on to Metroids, don't you? So, without further ado, I present the Alpha Metroid!

The first Metroid game introduced players to the hideous, gelatinous blobs in the final stage of the game. Little was known about the creatures, save that they were truly deadly, they reproduced asexually when exposed to Beta Radiation, and they came from a small, newly-discovered planet on the distant frontier, a world designated SR-388.

Metroid II greatly expanded on the creatures' background by creating a whole evolutionary process for the species. In other environments, the lifeform resembled little more than a giant jellyfish with foot-long fangs, but when allowed to thrive in its natural environment, the creature went through a series of drastic metamorphoses, allowing them to advance to a variety of equally frightening forms. After all, a jellyfish alone is one of the most creepy, unusual, alien creatures you can find on Earth, but then make that creature evolve into multiple forms, ranging from beetle to spider to dinosaur, and you've got a species specifically designed to terrify humanity on EVERY primal level!

The first of these forms is the Alpha Metroid, as seen here. As you can see, it's probably the least threatening of the group, perhaps even less so than the iconic, less advanced larval Metroid that most people recognize. It'll fool you, however. In addition to being faster and stronger than it's prior evolution, it's armored and far less vulnerable to freezing weaponry.

The build for this figure was pretty much the same as the build for my original Metroid. Cut up a rubber glitter ball, sculpt using Loctite Epoxy Putty, use computer wires for the neurostalks, sculpt the external body, assemble, paint, done. Honestly, this is probably the easiest figure I've ever built, even simpler than Zero Suit Samus. But hey, I didn't design the characters, I just build'em. Don't worry, the next two were MUCH more fun!

He ain't much, but the Alpha Metroid is a vital stage in the development of the Metroid species. Without him, we couldn't get to the real interesting forms.

See you next mission!