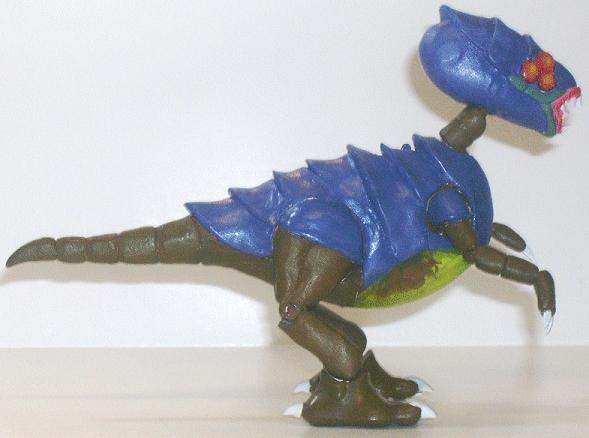 | | |
| --- | --- |
| Custom #: | 21457 |
| Name: | Zeta Metroid |
| Custom Type: | Action Figure |
| Toy Series: | Metroid |
| Creator: | Batman1016 |
| Date Added: | May 4, 2010 |
| Base Figure: | Generic Velociraptor Dinosaur Toy |
| Height: | 5.00 inches |
Good morning, figure freaks! I'm back with more Metroid custom figures! Progressing with the next installment in my series 2 "Military, Metroids, and Minor Characters" line, I give you the fourth incarnation of the Metroid creature, the Zeta Metroid!

The previous evolution, the Gamma Metroid, was the first form to possess functional legs. Though it retained the ability to float like its previous life stages, it needed legs so it could learn to walk before it evolved into the larger, heavier, flightless (generally accepted retcon) Zeta Metroid. However, despite its decreased maneuverability, the Zeta was an improvement on the Gamma design in nearly every way. Faster, stronger, more durable, and armed with an array of deadly attacks, from its clawed forearms to its acid spit to its leech-like mouth, perfect for sucking the life force from its enemies.

Obviously, in making a dinosaur-like alien, you want to start with a dinosaur figure. Sadly, most dinosaur toys in existence have extremely limited poseability, just shoulders and hips and maybe a head. Furthermore, most bipedal dinosaurs have normal, forward-pointing knees and walk on their toes. The Zeta Metroid, on the other hand, has reverse knees and walks on flat feet. To accomplish this unusual joint structure, I took a generic Velociraptor toy, removed the legs at the knees, attached the knees and lower legs from an old 5" scale X-Men: Secret Weapon Force Colossus figure, attached feet from a TMNT Movie Leonardo figure (the newer CGI flick), and resculpted the entire surface of the limbs. Since Colossus was one of the few oldschool X-Men figures to have ankle joints, the dinosaur effectively tripled his articulation on the spot.

The arms, likewise, had to be replaced. A pair of Marvel Legends X-23 arms with the claws cut short did the trick nicely. Another X-23 arm for the neck (yes, I use this character for EVERYTHING . . . not like she's worth $#!+ on her own, horrible figure, but nice, spindly limbs), a custom sculpted head, a leftover segment of a rubber glitter ball for the belly dome, computer wires and armor plates, and a full paint job, and we've got ourselves a Zeta Metroid!

An interesting side note: the original dinosaur toy had an action feature! Flick a little switch on its back, and the figure would wave its arms and roar. Well, I was able to maintain the feature for the Zeta. He claws and snarls with the press of a button! Sadly, there's no real way to display this feature here on the site, but if you look up "Zeta Metroid - Jay Field" on YouTube, you can see a video of the figure in action! You see, back in December, I submitted this Zeta Metroid figure to the Metroid Database website for a "Build A Metroid" contest. For this contribution, combined with my other Metroid creations, I won second prize!

See you next mission!