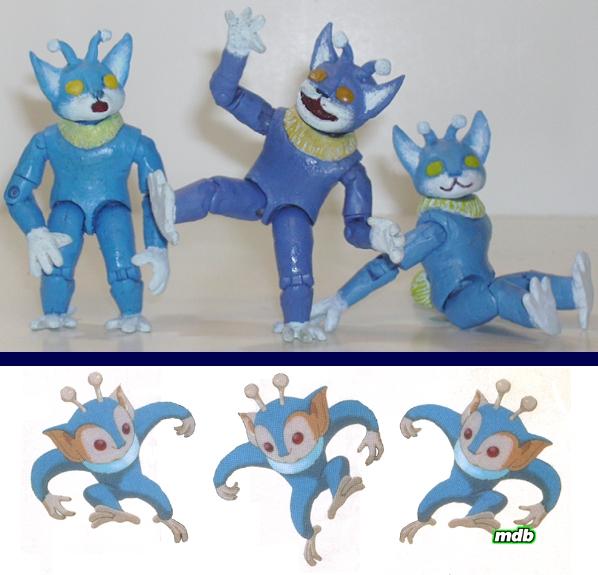 | | |
| --- | --- |
| Custom #: | 21458 |
| Name: | Etecoons and Dachora |
| Custom Type: | Miniature / Figurine |
| Toy Series: | Metroid |
| Creator: | Batman1016 |
| Date Added: | May 4, 2010 |
| Base Figure: | GI Joe Crimson Guard Cobra Trooper, X-Men Banshee |
| Height: | 2.50 inches |
Hey, look! It's four figures for the price of one! Have I gone mad? No, these figures are rather small, and so they come as a set! I'm done with the Metroids, and now I'm on to minor characters in the Metroid universe. The 8th release in my Metroid series 2 figure line, a four-pack: the Etecoons and the Dachora!

After her first sequel on the Gameboy, Samus Aran made her glorious return to home consoles on the Super Nintendo in Super Metroid. Equipped with updated graphics, a larger arsenal, and several new moves, it is frequently counted as one of the ten best games of all time! One of the major contributing factors to this is the sheer depth and polish that went into the design, and nowhere is this more apparent than in the inclusion of the Etecoons and Dachora.

In addition to the attacks and abilities she acquired during the progression of the game, Samus had a few hidden abilities inherent in her character that no one had ever seen before, namely the Wall Jump (the ability to bounce off vertical surfaces in an effort to climb higher) and the "Shinespark" (a Speed Boost attack that, when charged, allowed Samus to fly through the air in any direction, destroying almost anything in her path). A player could go through the whole game without using these abilities, but if they went exploring, they might find themselves trapped in an insurmountably tall pit. And that's where these creatures came into play.

The Etecoons were little, blue space monkey-rabbit creatures that taught Samus how to wall-jump out of a deep hole in the forest caves of Brinstar. The Dachora, meanwhile, was a green, ostrich-like bird hidden in a sandy pit in an earlier area of Brinstar. When Samus inadvertently speed-boosts into the pit, the Dachora shows her how to shinespark out. Amusingly, at the end of the game, if the player takes Samus on an alternate path as she escapes the exploding planet Zebes, she can find and rescue the friendly creatures, and they can be seen escaping the planet on their own ship during the end sequence. Later, in Metroid Fusion, the critters make their second appearance and return the favor, piloting Samus' ship and rescuing her from the dying BSL Research Station.

Because the Etecoons are so much smaller than Samus, I used smaller figures, namely a triad of old GI Joe Crimson Guard Cobra troops that I had lying around. I cut their legs and torsos short, carved off their helmets, and used the Dremel tool to grind down every sculpted detail, making their bodies even shorter and almost entirely smooth. Please note, the ONLY sculpting on these three figures are the heads, hands, feet, collars, and tails. The rest of their bodies are the natural plastic, painted blue. As you can see, I did a different face and used slightly different shades of blue and yellow for each monkey to give them each their own unique identity.

The Etecoon was rather more complicated, and actually pretty funny. Since no ostrich figures really exist anywhere, I had to use a human and put it in a somewhat . . . compromising pose. I took an old 5" X-Men Banshee figure, bent his legs so his butt was sticking out into the air, removed his head, arms, and feet, and attached the ankles and feet from a Marvel Vs Capcom Dhalsim figure to his calves, and glued Dhalsim's arm to Banshee's torso. He was a disturbing little toy, or as my brother affectionately labeled him, "the Buttrape Beast."

Anyway, I used Crayola Model Magic paper clay to do the head and body sculpt so he wouldn't be top-heavy, and used Loctite Epoxy Putty to build the wings, tail, and claws. A full paint job later, and you'd never tell this guy was once human!

They may not seem all that important, but they've appeared in multiple games (more than Admiral Dane or Commander Adam, or even Old Bird), and they've even saved Samus' life! I call that a vital addition to the Metroid canon, don't you?

See you next mission!