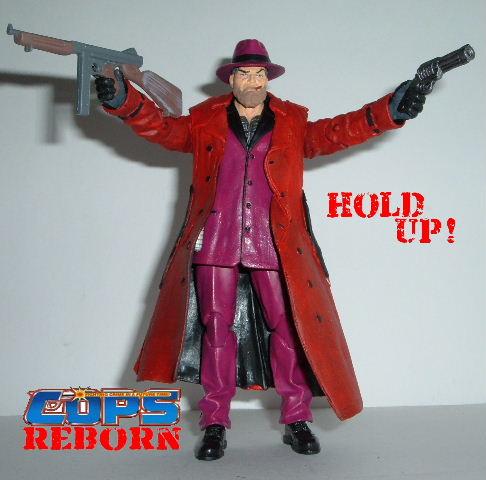 When I remember my childhood toys I fondly remember Buttons McBoom boom from the C.O.P.S. cartoon & comics. While his name was pretty stupid, his look was awesome to my young eyes; he was a futurist 1920's gangster that had guns locked away in his chest and an instrument case with Tommy gun. Even though his chest panel didn't last a week without breaking and I lost his small hat soon after, I still own my original 20+ years later. Now the contest for the month is Past Toys Reborn and up for your consideration is Big Boss' enforcer himself with a totally new look Buttons McBoom boom. I deliberated on his design and figured Scarface (Tony Montana) + modern trench coat gangster with ponytail = McBoom boom. His color scheme is a mixture of his comic, animated, and action figure colors. His machine gun chest feature was thought through different views and I finally settled on magnets. Accessories everyone loves accessories…. right, a fedora, 2 sets of hands, knife that can be holstered in coat, 2 machine guns that can also be holstered in coat one at a time, a revolver, a comb, a suitcase of credits, an alt left arm (ML Iron Lad arm) with missile attachment that could also attach hands, soft plastic suit front piece that slides under coat, and of course 2 chest gun cylinders. Buttons was made from a ML Kraven chest, Deluxe Angel figure waist & legs, Mezco Spirit coat, arms, & fedora, ML series 4 Punisher head, and some sculpting.

Buttons McBoom boom:
Anthony "Tony" Capone grew up in the slums of Central City with his single parent mother. Because of his last name, Tony admired the great gangster of the 1920's Al Capone and always wondered if he was not a descended of famed mob boss. With thoughts like this in his mind, he slowly started down the wrong path; first it was bullying weaker kids for their lunch money, then small-time theft from local shops, and then joining a gang. His gang nickname "Buttons" came from the fact he had habit of snapping his fingers like snap buttons on a coat. Never a leader of men like his so-called descendant, Tony's role became that of enforcer or muscle and that never bothered him one bit. Eventually the gang became swallowed up by a new crime organization headed by a then fledgling Big Boss just starting to spread his wings in Central City. Tony's mother became ill and required medical attention that young man could not afford, so Tony tried to see if the Big Boss could help in this respect. Big Boss' answer came in the form being locked in a warehouse with three of Big Boss' top enforcers. Tony left the warehouse battered and bruised, seeing his so-called enforcers sprawled on the floor Big Boss offered Tony the fallen men's accumulated pay to become his enforcer. Tony gave his mother the best medical care money could afford and all it real cost him was his human heart. As he became a killer at the behest of Big Boss so proficient of a hit man, he had become that just the mention of the name "Buttons" struck fear into Big Boss' rivals. Tony's demeanor became cold, his eyes even colder, outside of his mother and Big Boss he didn't care about anything. Soon his mother grew so ill that even medical attention could not save her, at her death bed Tony's mother confessed she knew that criminal "dirty" money was keeping her alive and with her passing on it was time for her little boy to bury his involvement with crime with her, Tony promised his mother it would be done. Tony marched into Big Boss' office and announced his retirement from crime and would take almost any punishment Big Boss thought of to end his criminal employ. Big Boss wasn't angry, he was actually happy for Tony; Big Boss had just one small job that he could not trust with anyone but his best enforcer. During the job tragedy struck Tony as highly armed police tried to take him down with lethal force as a first response, during the conflict a grenade dropped in front of Tony and exploded with maximum damage. Tony awoke to find that he was still alive due to the intervention of Big Boss and the cyber-genius Dr Bad Vibes, who to save Tony's life had to cyberize 70% of Tony's body. This type of operation was more than Tony could make in a lifetime as a blue-collar worker as he promised his mother, so he allowed Anthony "Tony" Capone die on the operating table and arose as Button McBoom boom, loyal enforcer of the Big Boss.

C.O.P.S. FACTS:
Buttons could always be seen gnawing on a toothpick or swiping a comb through his hair due to the fact that these are some of the few areas on his body that still register feeling.