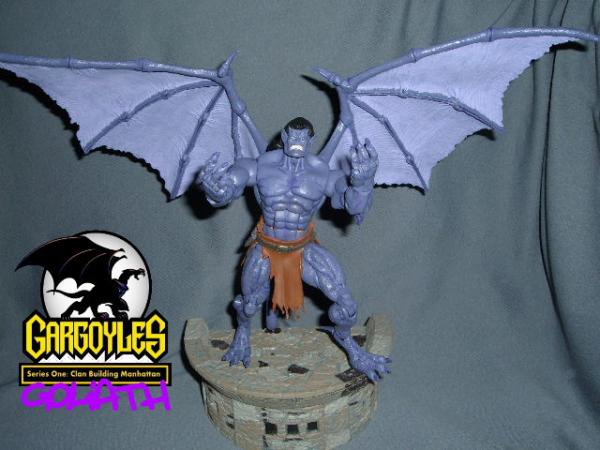 Stop me if you heard this one before, one thousand years ago, superstition and the sword ruled. It was a time of darkness. It was a world of fear. It was the age of Gargoyles. Stone by day, warriors by night, we were betrayed by the humans we had sworn to protect, frozen in stone by a magic spell for a thousand years. Now, here in Manhattan, the spell is broken, and we live again! We are defenders of the night! We are Gargoyles.
It's amazing to me that in the years that I've been checking out customizing website. I've seen a plethora of excellent customs dedicated to 80's and 90's cartoon characters that are not available from toy companies, from the very obscure like Freakazoid and Inhumaniods to mediocre licenses like Silverhawks and Bravestarr to popular franchises like Thundercats and Legend-sized G.I. Joes, heck I've even seen some great Jem custom (yes, they was truly truly outrageous), but I've only seen maybe two attempts at customizing Disney's Gargoyles I really thought this excellent cartoon had more of a fan base that would want to see updated customized versions of Goliath and his clan. If you never seen the show then I personally suggest that you watch it, it's probably the one of the best original cartoons that came out in the 90's. With my meager customizing skills I hope to bring Gargoyles back (custom wise anyways) with a look crossing over the TV series with the comics. First up is Goliath, leader of the Gargoyle clan and the main character of the series. The first thing thrown out the window when making this custom was the color scheme, I personally wanted to go a little darker like the comics, Disney's need to attract children's attention with primary or light colors did not need apply here, that plus I didn't really want a big lavender colored custom in my collection, I did apply his animated color on the membrane of his wings…so that is color that Goliath would have been. I singed his upper body and arms a bit to give the custom leathery-like skin. His heads one angry (because Goliath was almost always angry) and one calm (because I didn't want a angry looking Goliath with Elisa Maza) were slightly sculpted with rubbery long flow hair as to not constrict neck articulation. Goliath's loincloth is made from soft plastic / rubber that does not constrict waist or leg articulation in anyway and I also included the pouch on his belt that he kept the Phoenix gate and Eye of Odin in… it's a small thing but it played a big role in the animated series. Mattel's Yu-gi-oh GX toys Joynt system help give the custom's wings greater mobility 60 degrees vertically and 360 horizontally,I even tried to get the wings to bend to cloak Goliath like the cartoon it almost worked but the paint kept flaking off. This scaled figure is also balanced to hold the weight of the wings without losing balance and still allows for over 40 points of articulation including single finger articulation. I'm playing this Gargoyles custom series close to the vest like I'm a toy company giving this toy line a second chance at life for the fans. Regardless Series one will be completed which comprises (not in this order) of 1) Goliath 2) Elisa Maza 3) Brooklyn 4) Xanatos in steel clan armor 5) Demona 6) Macbeth and for fun each figure will come with a C.A.B piece (connect and build) for the cyborg Frankenstein Gargoyle Coldstone.

Goliath is customized from:
HML Hercules torso & upper arms,
HML Annihilus elbows & wings,
LH Savage Dragon lower arms,
ASM Stealth Venom legs,
ML Black Heart feet, fingers, & tail,
Sota SF Blanka head (angry head),
HML Hulk Skaar head (calm head),
some fodder pieces, and sculpting.
GARGOYLES FUN FACT: The series Gargoyles was originally pitched to Disney as a comedy about stone gargoyles on buildings, only one character seemed interesting enough to be carried on to the actual animated series, a dark brooding gargoyle that eventually became Goliath.