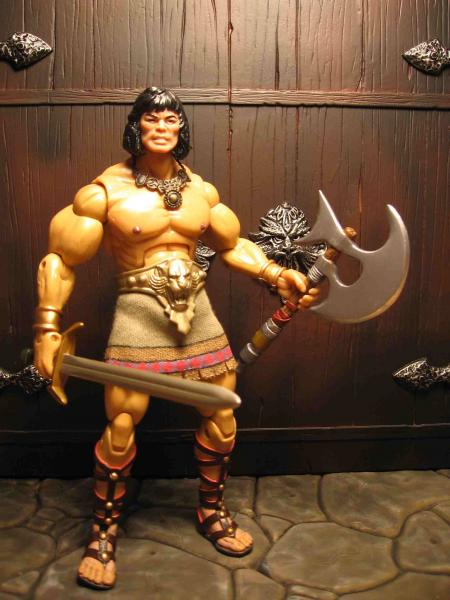 | | |
| --- | --- |
| Custom #: | 2213 |
| Name: | Kull of Atlantis |
| Custom Type: | Action Figure |
| Toy Series: | Original |
| Creator: | Maelstrom |
| Date Added: | April 1, 2007 |
| Base Figure: | Triple H Wrestling figure |
| Height: | 7.50 inches |
Before Conan (and way before He-Man), there was Kull. A barbarian from Atlantis who rose from slave to outlaw, to gladiator, to soldier, and finally to usurp the Valusian throne from the tyrranical King Borna........This one really went down to the wire, I was working on it all day Saturday and submitted it less than 15 minutes before midnight. The paint was not even dry when these pictures were taken. I wanted to do a Kull for a long time, but I never found a head that I was satisfied with. Yep, that's a vintage He-Man head there... I don't know how many times I talked myself out of using it for this custom, but I kept coming back to it. Anyways I think it works, and besides, I think He-Man is basicly a rip-off of Kull anyways. Here are some comparisons: He-Man's nemesis Skeletor is not unlike Kull's Skull-faced Thulsa Doom, and While Kull constantly battled the Serpent Men, He-man has the "Snake men", also He-man rides that green tiger and Kull's totem is the tiger. He-Man's realm is called "Eternia" while Kull's kingdom is called "Valusia" (sounds slightly alike). Anyways enough of that, this is a Triple H deluxe aggression base figure. The extra hair is sculpted with Fixit (my first time to use the stuff-I highly recommend it). The belt is from a Marvel Legends Namor, I added some studs and other pieces. the tiger head is from a crappy Kull figure from the crappy Kull movie, I used Fixit sculpt to blend it in as well. The kilt is hand sewn and painted with a gold paint pen and acrylic colors. The bracelets are from the crappy new Hercules figure (of which I took great pleasure in dismembering). The necklace is from a "Scorpion King" figure and has been slightly modified. And finally the sandals...the feet are from the boxed King Conan figure by McFarlane. I shaved the existing sandals down and used rubber bands for the sandal straps. The gold studs are also courtesy of the crappy Hercules figure. Axe and sword are from Stan Winston's "Realm of the Claw" line. For those interested, the diorama is something I just got. It is from a Silent Screamers (Mezco toys) Stone Golem. It stands about 20+ inches tall (almost twice as large as I thought it would be), it makes a great backdrop and the door handles also seem to resemble depictions of Kull's god, "Valka."