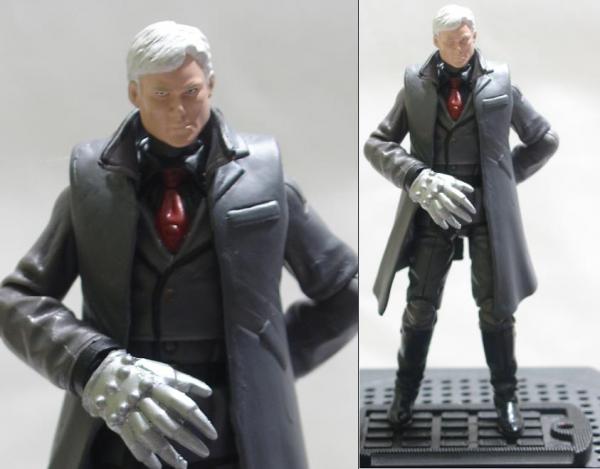 Dr. George Claw is made up of several pieces and parts of ROC figures, his body is mainly Destro, with a repainted lab coat from Rex, his head although is a re-painted Trakker figure from the regular 25th Line. His right hand features an interchangeable array of weaponry. Mad Cat is a repainted cat from The Golden Compass line.

The Story,

As a brilliant and wealthy business man and doctor in human genome mapping, Dr. George Claw was never a man to get his hands dirty himself, That is what lackeys are for. Constantly making investments with his families riches in large scale operations that in-turn would triple his initial investment. Reality, financial establishments, weapon and arms manufacturing plants, scientific advances that would benefit his own ends.
The world it seemed, was at his finger tips.
Then one day things started to fall apart. A deep recession struck and he lost millions upon millions with all his investments failing. Companies failed, fingers were pointed, people went to prison, and many others paid the ultimate price, and as the situation grew worse Dr. Claw slowly began to lose his mind and sought comfort with his only companion - the company of his cat. After years of a continued downward spiral into insanity, he retreating from society claiming that it was the governments fault that he lost everything and that they must pay, and even after his accident which only fueled his hatred against the world. Dr. Claw was convinced that only he himself would lead the world back into the realm of sanity and peace and only through hatred and fear could this be achieved. The time for a change is here, the time for M.A.D.