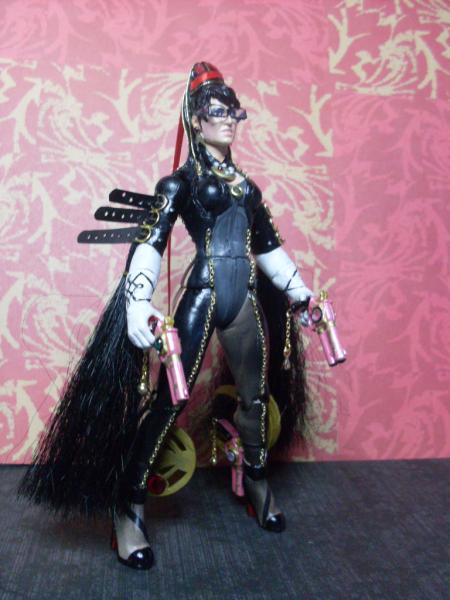 Hey folks, this is my second ever custom! Right after playing the Bayonetta video game, I was pretty convinced she was the coolest character ever, so I started checking around to see if NECA or someone was going to do a figure. At that time, nobody was, so I decided that I'd try and make my own Bayonetta after I finished with my current project. This was a real trial by fire, her costume is incredibly ornate and there were a million little things to measure, glue, fabricate, sculpt, sand... months of work, off and on. Aa number of times, I'd look at it and think, "Isn't this good enough to quit now?" but I'm glad I didn't.

The main body is a WWE Titantron Chyna, I picked it mainly because it had high heels, gloves and a solid figure. The real Bayonetta is super thin and tall, but she also has a big butt and boobs, so I decided she could be a little thicker and still satisfy the other requirements. I used a dremel to grind down her biceps, glove tops and boots, and smoothed the figure's surface over those areas with Apoxie Sculpt. I also built up a collar, rings of hair around her boobs, and the diamond shaped opening on her back. She had to able to hold guns and the left hand was a fist, so I drilled a little hole through the middle and cut the fingers away with an exacto.

Chyna's face was mean so I used a WWE Lita's head instead. I thought that because they were from the same company I could just pop the new head on, but the neckstalks were different and I had to do some surgery. I made her nose a little pointier and trimmed down her chin- I think I might replace it down the line if I can find a donor that looks more like the genuine article.

The hair was way easier to do than I thought it would be. First I glued on the bangs to set the hairline, a piece of already-sculpted hair from another figure. I made a cone with a flattened top of Apoxie Sculpt on top of her head to make the beehive, and let it cure a day. Then I made six little strips of hair and joined them to the proper areas on the figure's body. The head doesn't move anymore, but I wasn't really counting on that. To make a hair texture on the putty, I used another action figure's head, one with straight hair, as a kind of stamp. It looks really good, much better than when I tried etching the little strands with a toothpick.

After that I started to attach the gold chain, I bought three gold necklaces from the Big Lots to use for this purpose. I glued them on with 5-minute epoxy, I was worried about this step but the epoxy stays gummy long enough to grip and hold the chain for a good while until you get it the way you want it. I tried Krazy Glue first, but it creates a white crust where the epoxy is clear, plus the latter holds better.

The glasses, I had to brainstorm a bit. I ended up making them from the thick plastic from a blister pack. First I took some measurements, then drew some glasses on a piece of paper. I taped it to the back of the plastic, traced it with a Gundam marker, and carefully cut them out.

Here's how I made the accessories/trim!

Hair decorations: Gold thread stiffened with Krazy Glue, gold necklace chain, red ribbon
Earrings: Drawn on cardstock, cut out with exacto, little red jewel
Stopwatch: Shirt button, painted gold with jewels & silver studs
Zipper pull: jump ring, from a bracelet kit
Arm straps: black vinyl folder, with tiny holes punched in and buckles made of jump rings
Shoes: Apoxie toe, heel and ankle strap, with jump ring buckle and smaller straps of electrical tape
Hair Medallions: Shrinky Dinks! I drew them 3 inches wide, cut out my designs, and shrank them down in the oven to the proper size.

The guns were a unique challenge, Bayonetta isn't Bayonetta without those guns. I dug through all my old stuff to find some guns I could use, and I found that the pistol that came with Undercover Donatello was pretty close to what I needed. I only had one, so I looked online and found a guy who sells that kind of stuff, and ordered four more. Which was lucky, because I broke one pretty bad and the spare came in handy. I cut off the bang flag and extractor rod, and glued on a second barrel made from a styrene rod. Paint, jewel, chain, etc. I drilled a little hole in the handle of each and put in an eyepin with a bit of chain and a charm on each, and on the guns I used on her feet, I put a little pin in the top of each so they'd be removable. I'm thinking of making other weapons for this figure, like the shotguns and sword.