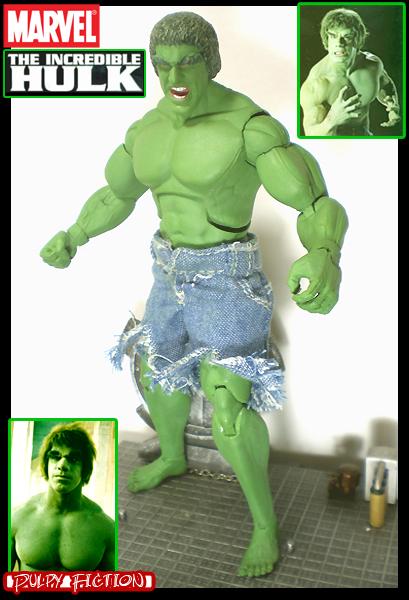 As a kid, I would run home if I was out so I could watch Marvel's classic series, The Incredible Hulk. Playing the title role was the legendary body builder, Lou Ferrigno. In honour of this man-monster, I really wanted to make this figure. I know people have used similar recipes to make this guy, but I hope mine is different enough to stand on its own merit.

Recipe:
jakks pacific wwe wrestler body(unknown)
jakks pacific HHH head
jakks pacific ufc figure legs (from knees down)

I used this other figure from the Jakks line of wrestlers, I don't know who he is, but his frame is different from the HHH and Batista body type, his chest is bigger and I think it matches that of Ferrigno really well!
I carved and cleaned off the HHH head's beard and hair, sculpted bigger brow ridges, and eyebrows, and the mop of hair on his head. I didn't know exactly which era or style to model it after (as it did tend to change from time to time, between the show to the t.v. movies, and in different promotional materials), so I went a little shorter to honour the mego Hulk that honestly inspired me a bit to make this figure (yeah I totally had one, and still do!). I thinks that's why I REALLY wanted this figure to have material pants too!
I wish I could have got my hands on 2 fists, but I only had one to swap out with the original figure's open hand. The wrestler had wristbands on so I got rid of that and sculpted in the veins that should have led from the arm, through where the wrist band was to the hand. I was hoping to easily swap out the UFC figures legs for the wrestler's, but this wasn't a simple swap. The peg holes between the knees and legs don't align, so I had to make that work using some persuasion! I also sculpted up the bottom of the legs from the UFC figure. They were okay for size scale wise, but they needed to be waaaaay beefier to portray Ferrigno's. I painted it with initial dark green primer layers, then dry brushed the lighter green up in several layers. The pants were from another old wrestling figure, and I tore them up a bit.

Sorry for my absence of custom posts, I've been busy as of late. I'm awfully glad to have posted something new, so keep a eye out for a handful more figures on the way.
And as always thanks for the views!