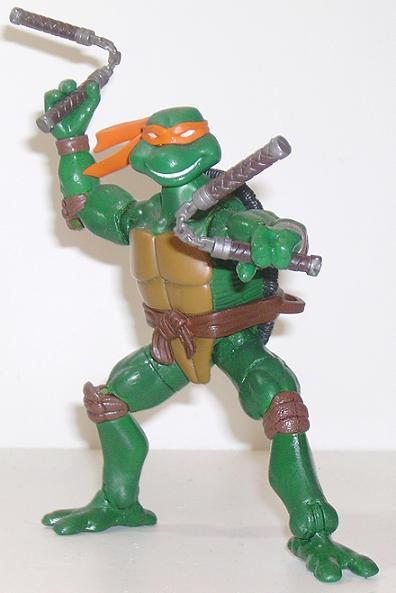 So, the few fans I've got on this site may be wondering, "Where the heck is Batman? He almost never posts anymore!" Well, what with working on the complex final figure in my Metroid series 2, combined with work, other hobbies, and a challenging little task called "moving," I haven't had much time for the Realm. Of course, I could still probably find time to post the older customs I already have finished, but that means I'd have to take pictures of them. I can't stress this enough: I really HATE photography. It's not all that hard, but it's time consuming, tedious, and takes too much patience to make it look good.

Ok, I'm rambling. So anyway, until I finish Kraid, I'm going to regale you with past exploits. You've seen Drizzt and Bumblebee (and if you haven't, seriously, check them out), so now I'm moving on to the last figure series I worked on before Metroid, namely the Teenage Mutant Ninja Turtles! First up: Mikey!

I've owned a compete base set of every TMNT figure series ever produced (the four turtles, April, Splinter, Shredder, Casey, Foot Soldier, and the other core villains). I owned them in the 80s. I replaced my old, broken ones in the 90s. Admittedly, I skipped "The Next Mutation" wave (even I have standards). I bought a set from the new cartoon in 2003. I picked up the figures for the 2007 CGI movie. And of course, I hunted down the complete version of each of the exceptional NECA collectible figures, even the SDCC exclusive Mouser pack. Ninja Turtles has been a pillar of my geek existence.

However, one failing of the toys has always been their limited posability. Despite coming leaps and bounds from the original 80s toys, the figures are still nowhere near the standard set by lines like Marvel Legends. Of course, the new NECA figures are easily that quality, but since they're based on the comics, they're not really the turtles I grew up with (not having become a comic fan until my early teens). I always wanted a set of highly posable turtles based on the cartoons I remembered, with a slightly modernized design. And just repainting the NECA figures isn't enough . . . they're still shaped like the old comic characters. Besides, why on EARTH would you ruin such exceptional (and expensive) toys?! It's a crime, I say!

To make my "ultra turtles," I took what I felt was the best of the 2003 and 2007 figures, and made improvements. I liked the shell sculpt for the '07 toys, so I used them as the base. I was less pleased with their oversized hands and feet, so I swapped in the forelimbs from the '03 figures, adding ankle joints from some random ML figure. I also added mid-thigh rotational joints because leg posing has always been a pain with TMNT toys. I bulked up the muscles on the thighs and biceps with Loctite Epoxy Putty. I preferred the smooth, shaded front shell from the '03 figures, but the belts and weapons came from the '07 figures. As for the heads, unlike many fans, I actually like both designs, the classic, angular "white eye" look AND the new rounded CGI portrait. So I made the heads swapable. I elected to keep the arm and knee pads brown, rather than colored like the original cartoon. Full paint and sealer spray, and Michelangelo was complete!

When I was a kid, I remember being told that TMNT was a stupid fad. 20 years later, I'm still playing with turtles figures! Hell, my desktop wallpaper is currently the Green Machine in an awesome action pose! They've hung on and become a part of American culture, and now I've got a set of turtle toys that I've always wanted.

Turtle Power!