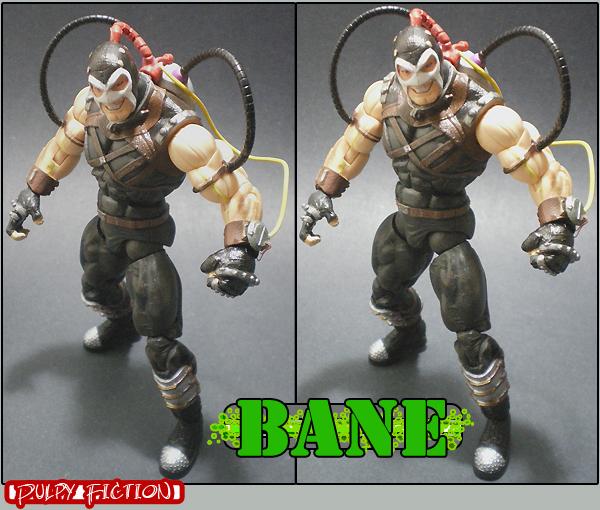 | | |
| --- | --- |
| Custom #: | 22833 |
| Name: | Bane |
| Custom Type: | Action Figure |
| Toy Series: | Batman |
| Creator: | pulpyfiction |
| Date Added: | July 4, 2010 |
| Base Figure: | Hasbro M.L. X3 Juggernaut |
| Height: | 7.00 inches |
I did this in honour of a well known individual in the custom sphere, Kyle Robinson. He did a Bane using a DC Bane head and the x3 Juggy as a base and it looked great. It made me think if I ever got one, I'd give it a go, because I saw some things I would have liked to try a little different.
I wanted this to be like something I could see them use in a film, but still capture Bane. I didn't want him to be hulk big, but something more like an actor could portray.

To start we've seen the X3 Juggernaut frame used as Bane many a time. I think that's for a reason though. It has that Timm/Dini later era Batman animated feel, you know that whole dominatrix look!
I unlike most x3 juggy-banes, used some of the plating on the boots and treated it like metal, I thought it would give it that s#!t-kicker look, not that he needs metal plated boots to hurt somebody! I also used the leather staps unlike most customs using this frame. I thought it looked cool and gave it more of a real world look, and it functions as a harness for my Venom machine it straps to his back. Speaking of which, ever since I got my Black Manta (for an excellent blank canvas figure base), I knew what I was doing with his tubes and pack breathing apparatus-thingy. It was waiting in my fodder bin for some time just for this job!
The head I went with was chosen because I wanted to portray bane as amped up and crazy on "the JUICE"! So I loved the undeserved crazed look on neca's streetfighter Ken figure's face, I had it in mind for a couple of customs (so I have to grab up a couple if I ever find them cheap).
I took off Ken's hair and cut off his ears (save those guys for later!), and sculpted the mask. I wanted to incorporate several of the different incarnations of Bane, like the T.A.S. version, the original comic, and the Arkham game. I find the open mouth mask would have to be there, as when he finally does run down batman he tends to run his mouth off to gloat over what he's been up to. I added rivets to the mask, cuz it has that biker bada$$ leather dude feel. I gave the eyes some redness around them to help with the rage. Then I painted the leather to be like the leather paints on the rest of the figure. Black primer layer, then dulled with brown tones dark to light layers. A lot of highlights in bane customs are done with blue tones, for mine I wanted to age the suit like a leather jacket.
I made the wrist control unit and connection tubing out of fodder parts and wire, and I gave the skin a little green dry brushing to simulate an effect of the venom, and treated the veins with green to show the venom running through his system.

Thanks for the view!