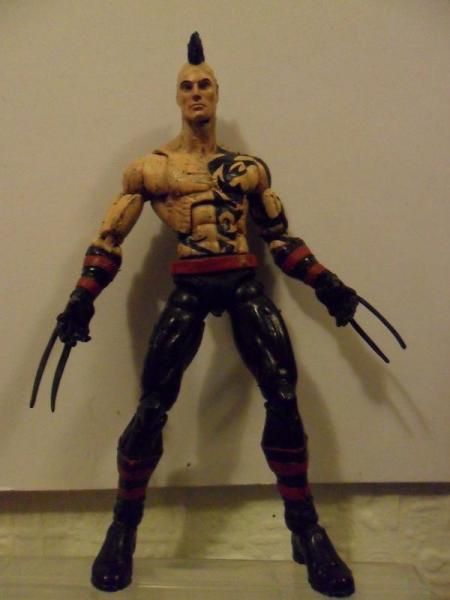 You gotta love Daken, its all in the design, the awesome Tat the rediculous hair, and his ability to pick terrible costumes. Ok I didn't mind him in his old man's brown n tan,but have u seen the monstrosity he's gonna be wearing now, looks like spider-fist, not cool. So here's Daken, as Daken, not dark wolverine, just Daken the way he should be.

The base is mostly chop shopped bullseye and moon knight parts (the best base bodies a guy could ask for) the haid is BOP angel with a nice sculpty mohawk. I went for angels head as he really has a smugness about him that fits Daken. The claws can of Days of the future past logan, as the had the right kind of shape to em. The belt is that ol gem - sinisters cape. Painted top to toe in citadel and tamiya paints. He now has 39 points of articulation and doesn't suffer paint wear :)

Ok, so I know the outfit is totally made up, but I figure this is how Daken should be, if you have a very intrequate (but fun to paint) tattoo show it off bub. If you have unique hair, you rock that hawk! So no sleeves or mask, or even shirt for this bad boy. Just practical combats and globed with military boots. A trim of crimson as Daken does have a flare for bloodletting, and thats pretty much all he needs. Now he can just let the claws do the talking.

Sorry bout the quality of the photos, I'm on a new camera and I'm still trying to work the kinks out.

What do you guys think?