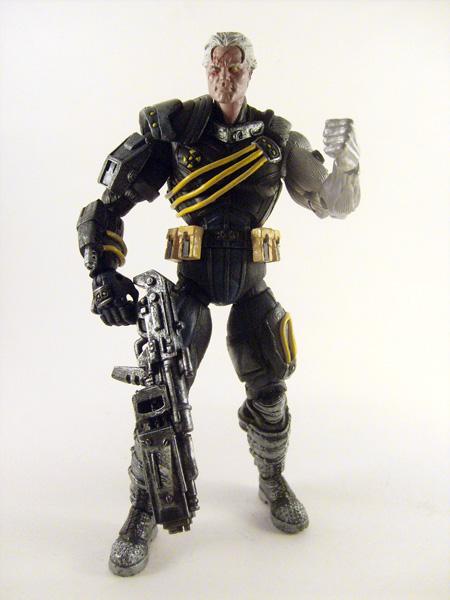 Here is Cable as shown in the Marvel Ultimate Alliance 2 videogame. He was made using the head of an XMC Magneto, the body of an X3 Colossus, and the lower legs from an X3 Juggernaut.

I started by swapping out the legs below the knees using Juggernaut's, and made Magneto's head fit on the Colossus body. Then, I painted the entire body flat black, and painted the head to match Cable's, including his glowing eye and scar.

I used headphone wire for the wire effects on his chest, leg, and arm, and painted them yellow. The parts the wires connect to are completely sculpted. I added parts from the Magneto figure, like on his right arm, some Sinister cape strap, and the shoulder pad is from a Fist of the North Star figure, modified and sculpted onto. His back piece is also from a Fist of the North Star figure, Raoh. The ports on his left arm are cut off from a Superpatriot figure, and the arm was painted black with a silver drybrushing. After painted the body black I drybrushed some blue over him to match his game design colors.

His gun was made from two separate fodder guns I found and managed to fuse them together and paint it up.

There were a lot of details that went into making this custom, including several fodder parts, and lots of sculpting. If they ever make another Cable figure, I truly believe they should use his design from Marvel Ultimate Alliance 2. As soon as he's up on my site, I'll link to it so you all can see more photos and a more detailed description!