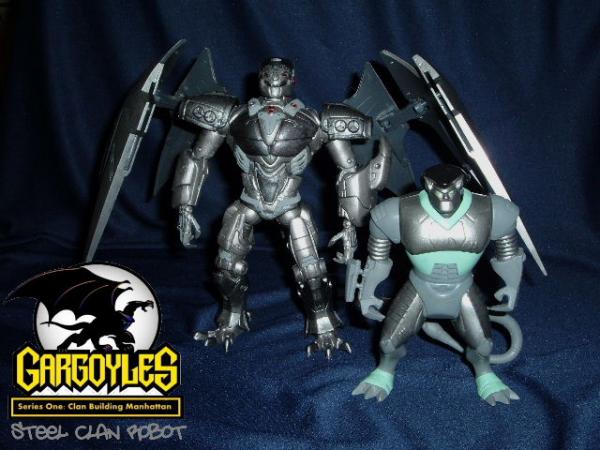 One thousand years ago, superstition and the sword ruled. It was a time of darkness. It was a world of fear. It was the age of Gargoyles. Stone by day, warriors by night, we were betrayed by the humans we had sworn to protect, frozen in stone by a magic spell for a thousand years. Now, here in Manhattan, the spell is broken, and we live again! We are defenders of the night! We are Gargoyles.
Second up in the Gargoyles line up is Steel Clan Robot. This custom was originally supposed to be Red Leader Xanatos, but I figured to make this a prototype to what will help make Red Leader better. So with that said I used this contest and my meager customizing skills to cobble together with robot parts from different toy lines an ultimate (if you will) version of the Steel Clan Robot. Crossing over the TV series with the comics and some personal minor creative differences. First thing that had to be done was make the custom look as if it could be used as a scaled exo armor for Xanatos. Second, it needed to be scaled to the Goliath figure that it may be a believable threat to the Gargoyle's clan leader. It's head was changed drastically for a couple of reasons, 1) If robots aren't a part of the normal / pedestrian world of Gargoyles and Gargoyles had yet to known to the citizens of the city why would Xanatos go to the effort of making the Steel Clan's face in Goliath's image other than to piss him off. 2) Sculpted steel Goliath hair would have constricted the head's turning articulation, so I went with wirehair just like Danger from Astonishing X-men. 3) I needed to see if the head would be believable as a helmet for the Xanatos head. I included a multi-piece arm blaster that when attached looks just like the animated series (except on the left arm because again this custom was originally going to be Red Leader Xanatos). Mattel's Yu-gi-oh GX toys Joynt system help give the custom's wings greater mobility 60 degrees vertically and 360 horizontally, the wing's Gundam joints allow for double folding and can cloak the figure. This scaled figure is also balanced to hold the weight of the wings without losing balance and still allows for over 32 points of articulation. Lastly as homage to the original Kenner figure's explode action and these robots getting destroyed like no ones business on the cartoon series, this custom has battle damage pop-off parts such as arms, wings, head, neck, feet, and hands. I'm playing this Gargoyles custom series close to the vest like I'm a toy company giving this toy line a second chance at life for any fans out there. Regardless Series one will be completed which comprises (not in this order) of 1) Goliath 2) Elisa Maza 3) Brooklyn 4) Steel Clan Robot 5) Demona 6) Macbeth and for fun each figure will come with a C.A.B piece (connect and build) for the cyborg Frankenstein Gargoyle Coldstone.
Steel Clan Robot is customized from: ML Ultron head, torso, & hands, ML 1ST App Iron man upper arms, Movie Iron man lower legs, Manga Spawn shoulder pads, upper legs, lower arms, Cyber Spawn tail, X-men classics Juggernaut crotch, Gundam Deathscythe-hell wings, LOTR Borimir head (Xanatos head), some fodder pieces, and lots of sculpting.
GARGOYLES FUN FACT: In episode 45 (The Gathering part two) of Gargoyles TV series, it was revealed that Xanatos had made an iron clan of robots and he also had a battle armor made of iron that was used to fend off magic attacks.